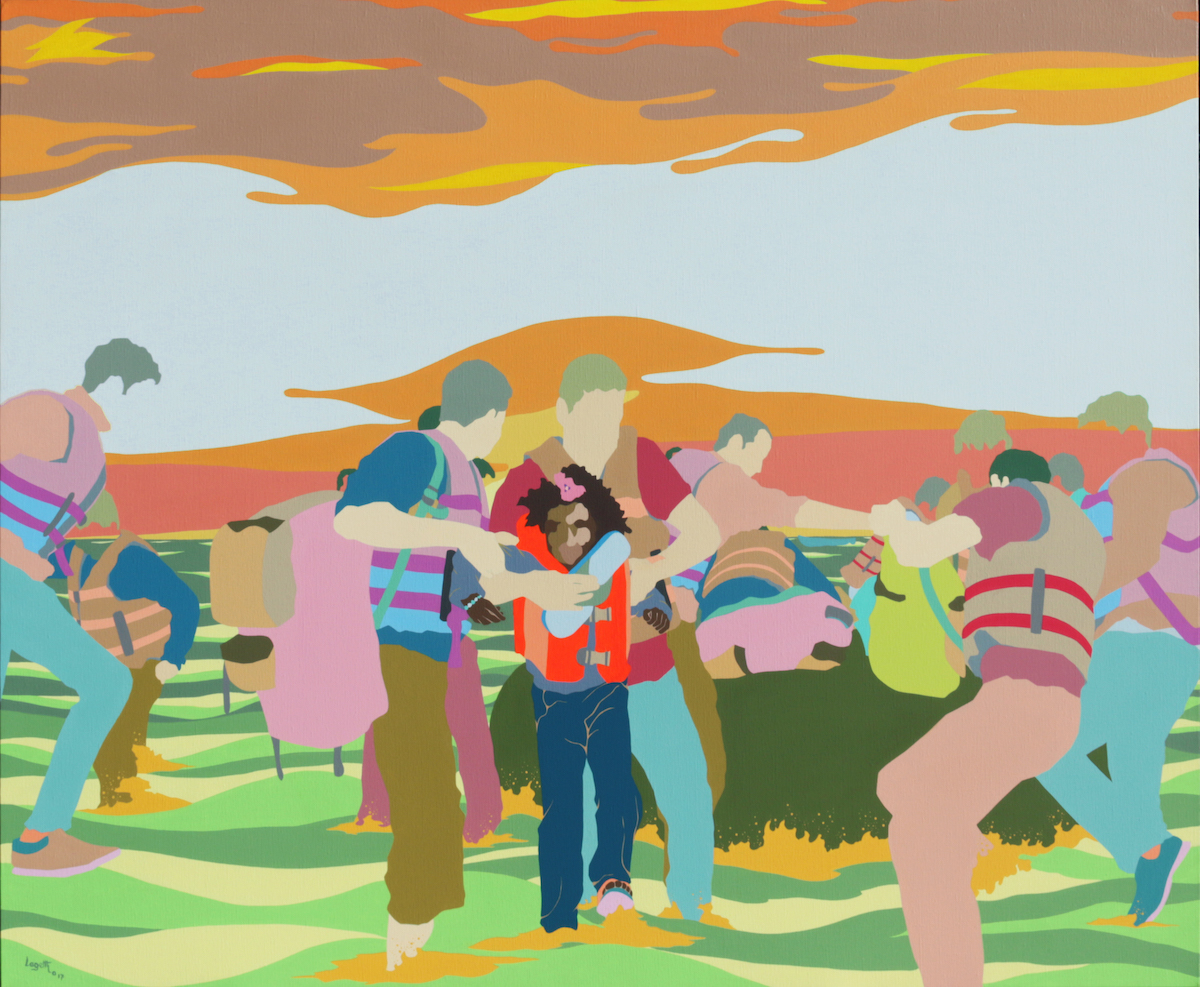 L'enfant (The child), 2017
130x 162 cm
Acrylic on canvas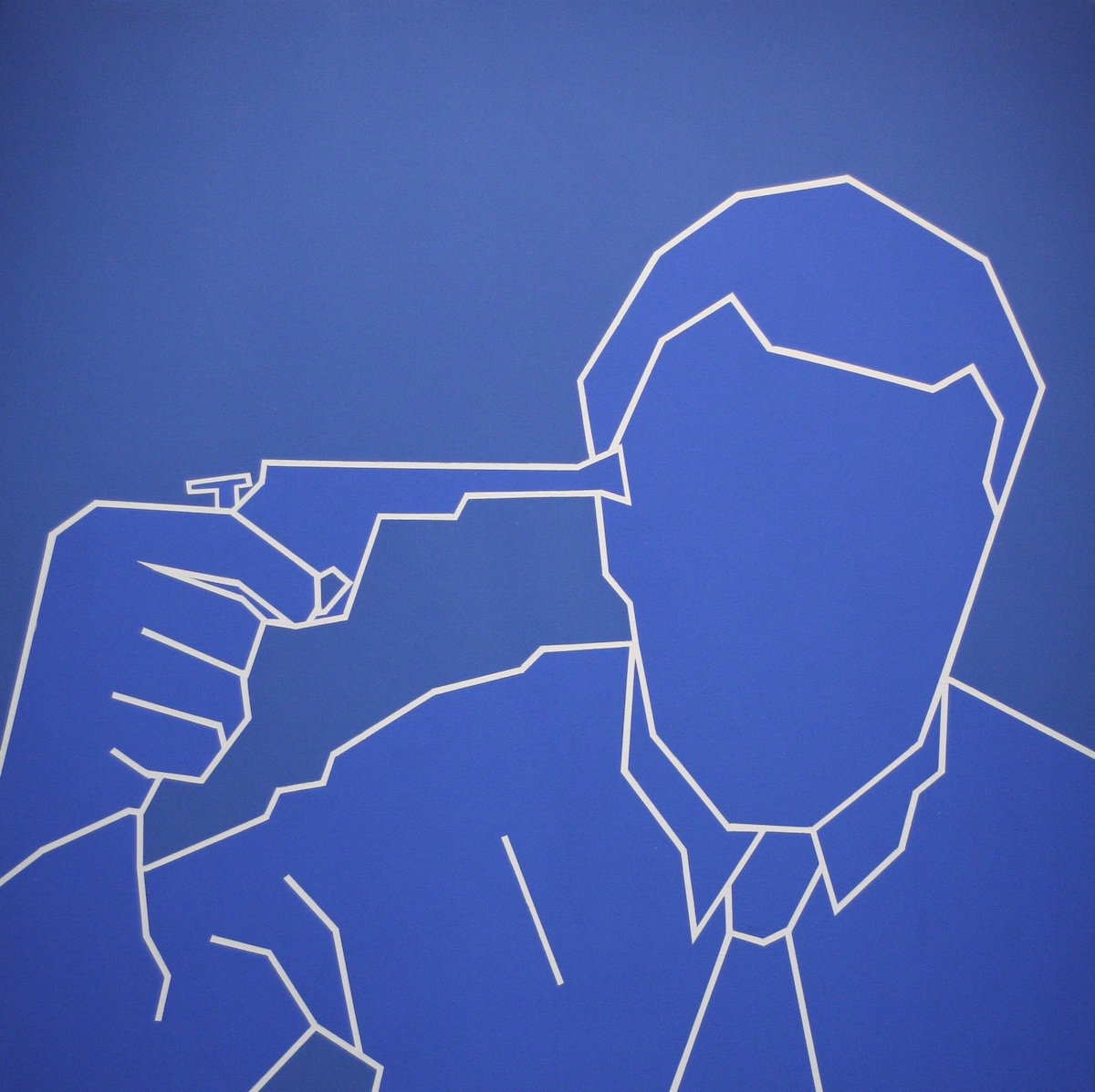 Le jour le plus long, (The longest day), 2008
100 x 100 cm
Acrylic on canvas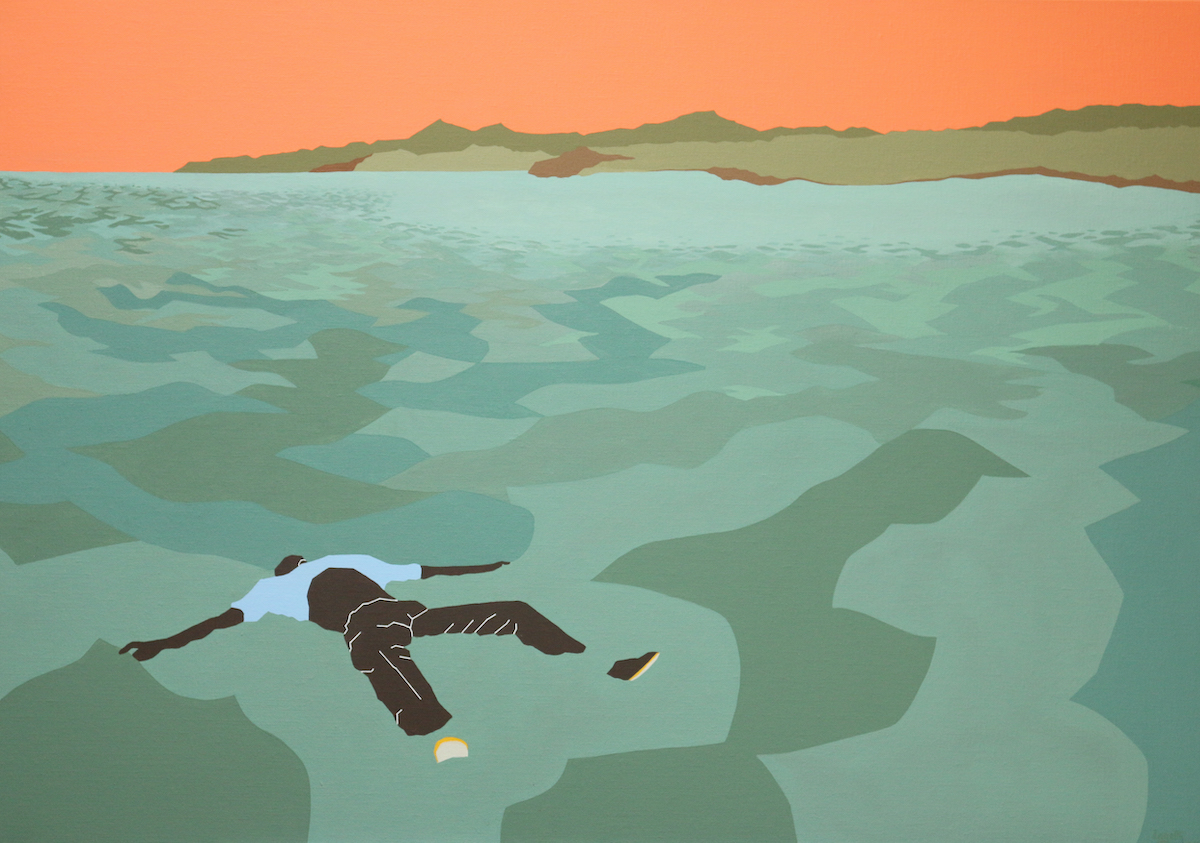 L'illusion de son destin, (The illusion of one's destiny), 2015
73 x 92 cm
Acrylic on canvas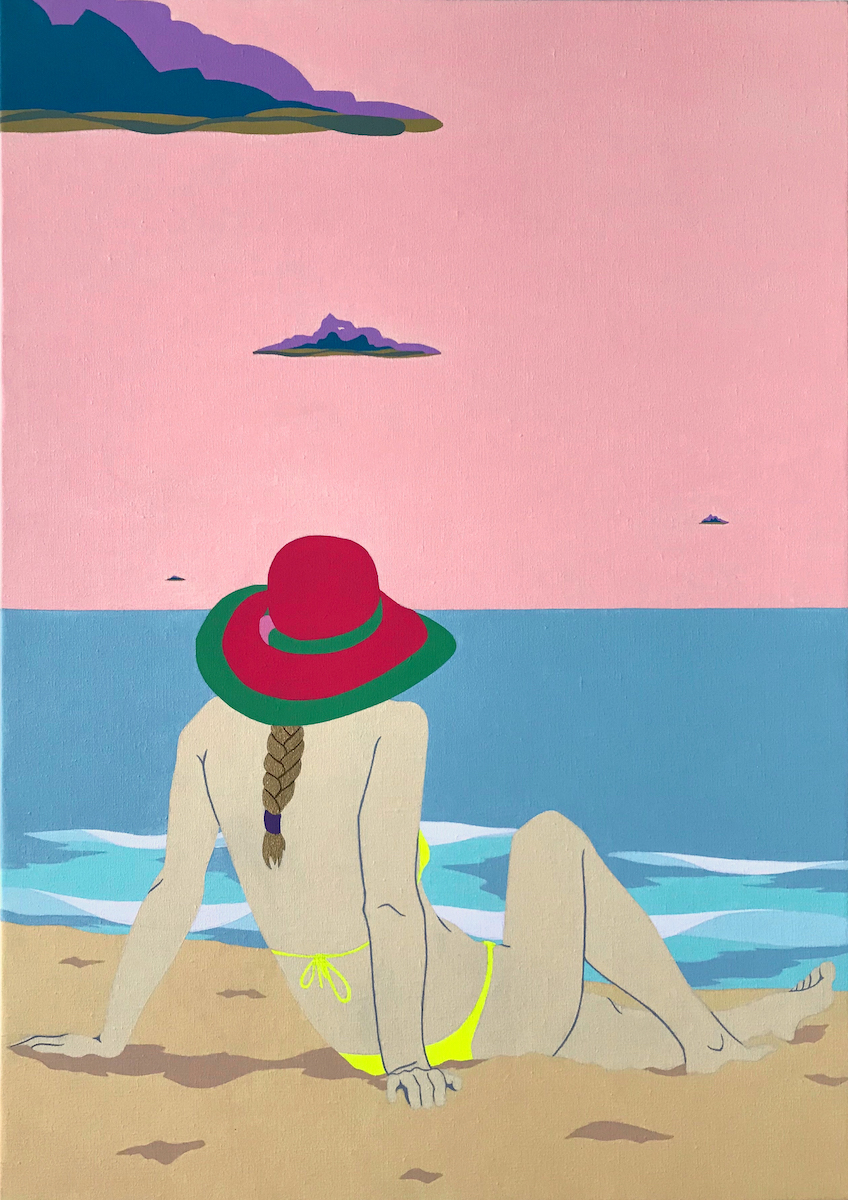 A l'horizon, pas grand-chose, (On the horizon, not much), 2018
Ht. 92 x 65 cm
Acrylic on canvas
1976, Tokyo. Lives and works in France
The surface of things
With its pastel colours and its flat treatment, Thibault Laget-Ro's painting seems perfect, at first glance, for translating the carefree attitude and communicating the wonderful happiness of our consumer society. This smooth appearance masks – to reveal it differently – a harsher side of reality.
On the sand of a sunny beach, holidaymakers are lounging or frolicking. The sun, at the edge of the multicoloured umbrellas, gently fries the skins greased with perfumed oil. Everything breathes joie de vivre. When suddenly, in the middle of this conventional image of happiness, exhausted men, women and children who have fled war or misery on makeshift boats arrive from the other side of the horizon. Similarly, underwater, a child who appeared to be frolicking in the waves turns out to be a young migrant drowning, no doubt having fallen from one of the new Medusa rafts venturing across the Mare Nostrum.
The sea clearly does not have the same meaning for everyone, depending on where they were born. This is what Thibault Laget-Ro's multicoloured canvases seem to say, in a veiled way. For the suave tones he uses, their deceptive cheerfulness, contrast with the subject of the scenes inspired by great photographic reporters. The flat treatment, which banishes all roughness, further accentuates this discrepancy between form and background, style and motif. One does not know who is lying, the subject or the colour, and this paradox adds a note of irony.
Thibault Laget-Ro's palette and style are not without echoes of pop art and narrative figuration. But his choice is above all based on a reflection on colour and an intention as to the graphic, synthetic way of rendering figures, away from realism and symbolism. In figuration," argues the painter, "we tend to make a colour and a feeling match to validate an intention, to increase the contrasts to influence the eye, as we do in marketing. For my part, I use colours that do not correspond to the subject's expectations.
In the same spirit, the portraits presented by Thibault Laget-Ro – portraits of migrants – appear almost faceless. Or at least without personality, without any real identity, the expression being reduced to a few features highlighted by shadow, a few spots of colour, and the posture of the general silhouette. As if guised, or masked, the face here is only an idea of a face. "I am not a committed painter, I am a witness of my time", says Thibault Laget-Ro. This bias towards neutrality is obviously only a decoy, a mask. The absence of features, or almost, on the faces of the characters conceals an unspeakable chaos: it camouflages the torments of an inner world as much as it eclipses the violence of the outside. The surface veils the depth. And the reflection, which flattens the representation, attenuates its effect.
Jean-Pierre Chambon in Périphériques n°87, January 2019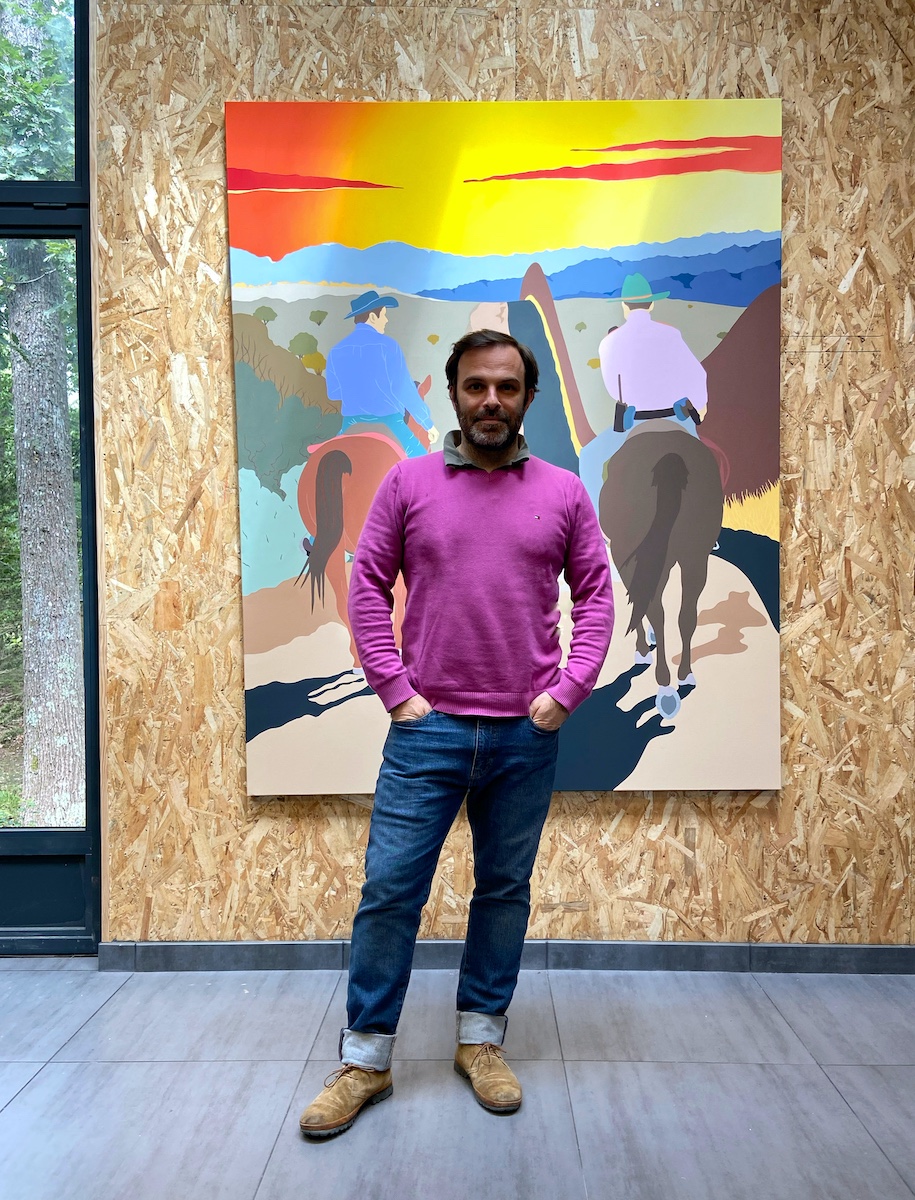 Solo exhibitions, selected since 2008
2021
Fondation Montresso, Le rêve américain, Marrakech
Cente National d'Exposition, Saguenay, Canada
2019
Centre d'art Espace VALLES, Les rivages brûlants, Saint Martin d'Heres
DE VISU, Oh! Les belles couleurs ! DRAC Normandie
2018
Galerie 29, Les échappés, Evian
Centre d'art contemporain le Mix, Mons Suum II, Mourenx
Pôle Culturel CHABRAN, Insensé est le monde, Draguignan, Commissariat : Fabrice d'Agosto bacquart
Galerie Jérome B, Le monde des enchantés, Bordeaux
2017
PANORAMA, de l'Exil à L'exode, DRAC Normandie
Galerie du Lycée Auguste et Louis Lumière, (Un) différent, La Ciotat
Galerie Nathalie Béreau, Chai Pierre et Bertrand Couly, Mons Suum, Chinon
2016
Galerie Couteron, Exode, Paris
2014

Musée d'art et d'histoire de Draguignan, Normalement, la vie continue…, Draguignan. Commissariat : Fabrice d'Agosto bacquart
2013
Orangerie du SÉNAT, Point critique, Paris
2012
Chapelle des Capucins, Espace culturel de la ville d'Aigues Mortes, Liberté ! Libertà ! Libertad !
2011
SwissLife Banque Privée Mécénat, Place Vendôme, WALLPAPER, Paris
2009
Galerie LE FEUVRE, Quand les corps s'électrisent, Paris
2008
Galerie des Beaux-arts de Paris (C.R.O.U.S), Les nages ne crient pas, Paris
Group exhibitions, selection since 2016
2021
Eden ou le jardin retrouvé ?, Galerie Nathalie Béreau, Espace des Coutures St Gervais, Paris
2020
Un voyage parisien, Galerie Nathalie Béreau, Espace des Coutures St Gervais, Paris
2019
Poudres et traits, Galerie Nathalie Béreau, 17 rue des Grands Augustins, Paris, La Semaine des Galeries Parisiennes de l'Estampe et du Dessin
DE VISU, curateur : Jonathan Loppin,  LE SHED centre d'art contemporain, Rouen, France
"OBSERVER", Curator : Anne Beauchemin, Musée d'art contemporain de Baie Saint Paul, Canada
"LA COLLECTION MONTRESSO – Regard sur le portrait", Espace d'art de la fondation Montresso, Maroc
Biennale d'Issy, Musée de la carte à jouer, Issy les Moulineaux, France
2018
Centre d'art Espace Chailloux, Fresnes
L'Abbaye aux Dames, DE VISU, DRAC Normandie, Caen
2017
Galerie Passage de l'art, DRAC PACA
PyeongChang Biennale 2017, Curateur Seong-Youn Kim, Corée du sud
Institut Bernard Magrez, « Never give up ! », Bordeaux
Centre d'art contemporain Chanot Hors les murs, l'Exposition d'hiver, Clamart
2016
34° symposium du Musée d'Art Contemporain de Baie de Saint Paul, Curateur : Marie Perrault, Canada
Passeport de… Beyrouth, Biennale de Paris, Beyrouth, Liban
Galerie DETAIS, « La vie de Château », Paris
Parcours de l'art, (En partenariat avec le FRAC PACA Et la fondation Yvan Lambert), Avignon
Prix Florence pour l'art contemporain, Paris
Mac Paris, Paris
Collections
Musée d'art contemporain Baie Saint Paul, Canada
Fondation COLAS
Collection privée François PINAULT
Fondation MONTRESSO
Artothèque de Saint-Cloud
Artothèque de Lille, LASECU
Artothèque de Draguignan
Artothèque de la Ferrière aux Etangs
Awards / Fellowships / Residencies
Résidence Santa Fe, Nouveau Mexique
Résidence au Musée d'art contemporain Baie Saint Paul, Canada
Résidence Fondation MONTRESSO, Marrakech, Maroc
Lauréat de la fondation COLAS
Prix HOUDART pour l'art contemporain
Training / Education
Master 2 Recherche, arts plastiques, Arts et création internationale, Panthéon Sorbonne, Paris I, Mention très bien
IHEAP – Paris, Institut des Hautes Etudes en Arts Plastiques
Beaux-Arts de Paris, cours pour adulte, Atelier Jean Marc Thommen et Atelier Hubert de Chalvron
DESS Sciences du Management – Panthéon Sorbonne, Paris I