« Les Hybrides », 2019-2021
Paint Canvas, cotton, binder, pigments
Diptychs: each 20 cm high x 40 cm long
Doudou III, Le lapin, 2018
Sculpture with twisted and glued cotton threads
1969, Angers, France. Lives and works in Brittany.
In my work I try to show a sensitive trace of the passage of life. I work on memory. Memory of bodies that have been and are no longer.
Perhaps they have grown up or are elsewhere, or perhaps they are dead?
For me, it is a question of showing the absence.
The sculptures I make often represent clothes.
These clothes seem to keep the imprint of a body that would have inhabited them. They are like second skins. They can also be seen as moults.
Absence is born from the void around which they take shape.
From this emptiness emerge images.
Happy and painful images.
Childhood dreams…
For me, it is also about evoking the fragility of existence.
This is why I often use plants to make my sculptures. Whether I choose them to be soft, sensual or light, once they have been transformed into moults, they express the precariousness of being in the world.
I associate humans and plants to speak of their mutual evanescence.
For example, like sand, poppy seeds evoke the passage of time. For a moment, they could be agglomerated and then eroded. The very memory of life, of these sculptures made of this material, could sink into oblivion.
But the seeds are a formidable reservoir of vital energy.
From nothingness, life is reborn…
Each plant carries its own meaning and poetics, and that is where I start. I extend the potential that exists in each of them but always with the same idea: to freeze the carnal envelope of the being before it fades away.
Soft toys, 2018
Soft toys, those objects that are so important when we are children, will eventually fade from our lives, be forgotten, disappear. This is what these sculptures evoke, an extension of previous research.
Drawings 2019-2021
The drawings (diptychs "Les Hybrides" and triptychs "Les crève-cœurs") have as their theme the Simples, these plants that were used in the Middle Ages to heal, and whose use we have forgotten today. They are all around us but we no longer know them, they have been forgotten.
The drawing "Hybrid I" is an echo of these Simples, it is composed of several plants and organic elements: it is the drawing of a plant that echoes the inventions of modern man, the GMOs.
Isabelle Tournoud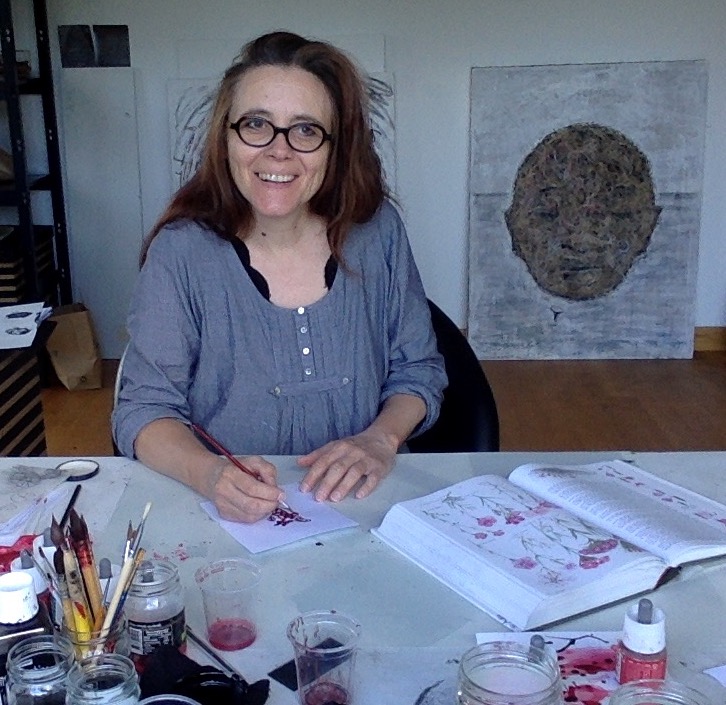 Isabelle Tournoud, magician of a reinvented nature, tames a dreamlike universe which almost always turns out to be metaphorically as contradictory and disturbing as the one we live in. But always, paradoxically, she gives it the seductive forms of a recreated or… dreamed. True or false? Bernard Point, Août 2005 (extract)
Exhibits since 1996. Selection since 2006.
(P) personal
2019
Faux-semblants, Musée d'art et du textile, Cholet (49) 
2016
Les artistes ont la fibre, Musée d'art et du textile, Cholet (49) 
2015
Au fil de la Loire, Galerie Nathalie Béreau c/° Chai Pierre et Bertrand Couly, Chinon
2014
Galerie Nathalie Béreau au 6, Mandel, Paris
2013
Salon art contemporain art o'clock, Galerie Nathalie Béreau, CNIT, La Défense
"Si l'art de la parure m'était conté", Château du Rivau, Lémeré
"Une spiritualité au féminin", Musée du Hiéron à Paray-le-Monial + Musée d'art sacré de Dijon
2012
Salon Cutlog, Bourse du Commerce, Paris, Galerie Nathalie Béreau+Le 6, Mandel
Incarnation avec Phet Cheng Suor, Musée du Textile, Cholet (catalogue) (P)
2011
La Vi(ll)e en rose, Galerie Nathalie Béreau c°/ Chai Pierre et Bertrand Couly, Chinon
Traverses 92, Centre culturel Max Juclier, Villeneuve-la-Garenne (P)
Culture en mémoire, réinvestir la planète, Galerie de L'Escale, Levallois, organisée par la Ville et le magazine Art Actuel
2010
Festival des jardins d'automne, Orangerie de Lyzandré, Plouha
Oh ! Mon beau château, Galerie Nathalie Béreau, Chinon
Instants dérobés, dame nature, Temple protestant de Pentemont, Paris (P)
Nature et détournements, Galerie Nathalie Béreau au 6, Mandel, Paris
2009
Galerie Nathalie Béreau, Chinon
Ar(T)bres, Château de la Bourdaisière
Couleur Café, Bruxelles
Danse-sculpture, Micadanses, Paris
2008
Alice, Hôtel Arturo Lopez, Neuilly sur Seine
Ça se mange des yeux, Melle
Les Environnementales, 5ème Biennale d'art contemporain, Jouy en Josas
Quoi de neuf, vitrine des Galeries Lafayette, Paris
2007

Centre culturel Louis Aragon, Oyonnax
Centre culturel de Gentilly
Galerie Toutes Latitudes , Vincennes
Exposition collective à l'Orangerie du Sénat, Paris
Exposition collective dans la serre du jardin André Citroën, Paris
L'homme paysage, Château d'Oiron
Artificialia III, cabinet de curiosités contemporain, centre d'art Bernard Anthonioz, Nogent-sur-Marne
2006

Biennale3000, Sao Paulo
Espaces Commines, Paris
Exposition Dress cOdes, Eindhoven
Festival "Chemin d'art", Saint-Flour
MatériOthèque, expo "Qu'est-ce qu'on mange ?" + Dress cOdes Paris
Festival "Couleur café", Bruxelles
Centre culturel de Beauchamp, (P)
Festival ARTEC, La Ferté Bernard
TAD, Milan
Formation
1995 Maîtrise d'arts plastiques à Paris I, Panthéon, sous la direction de Mr Cohen
Cours auprès de Jean Da Silva et Côme Mosta Heirt
Revue de presse Cutlog 2012, Paris, Galerie Nathalie Béreau
Arts magazine, mars 2010
Revue de presse pour l'exposition "Instants dérobés", Temple de Pentemont, Paris
Intervention d'Isabelle Tournoud, Protestantisme&Image, 2010 :
https://www.protestantismeetimages.com/Isabelle-Tournoud-artiste-de-l.html
Revue de presse pour l'exposition "Nature et détournements", Galerie Nathalie Béreau au 6, Mandel, Paris
Télérama SORTIR n°3044, 14 mai 2008
Catalogue des Environnementales, Jouy en Josas, 2008
Catalogue de l'exposition Chemin d'art, Saint Flour, 2006
Catalogue de l'exposition Nature, Galerie Fraîch'attitude, Paris, 2006
Archi-intérieure-Crée, n° 325, juin 2006
Il Giorno, 28 février 2006
INTERNI , janvier-février 2006
Elle( français-italien), nov 2005
Intramuros, nov 2005
Texte de Bernard Point, 2005
Catalogue de l'exposition Pic-nic Utopic, Galerie Fraîch'attitude, Paris, 2005
Revue Area n°9, 2005
Un certain regard sur la Nature, Semaine des Arts actuels, Bernay, 2001
46ème Salon de Montrouge, 2001
Catalogue de l'exposition SITUATION, Galerie Immanence, Paris 2001