Rochecorbon, France
"Since my first dinner set, which was made of porcelain, I am passionate about dishes. I love the sound of the material, the sound of the cup being placed in its saucer, the "noise in the kitchen" when the table is set, …
I have a particular sensitivity for white porcelain and glass tableware because it captures the light, it reflects simplicity and elegance, invites conviviality and makes the table sparkle!
Just as each wine has its own glass and bottle, each dish has its own aesthetic and practical function: dinner plate, soup plate, platter, salad bowl, ramekin, mold, bowl, cup, tureen, vegetable dish, butter dish, cup, teapot, coffee pot, sugar bowl, jam dish, etc. …
I began to imagine assemblies to decorate my own dining room, by the blossoming of an inspiration that had been watching over me for a long time, a childhood memory when I opened my grandmother's sideboards to look for chocolate and saw the Sunday dishes piled up on the shelves.
Sensitive to dishes that have already had a history, I relentlessly hunt for pieces abandoned by their owners in depots, flea markets, yard sales, then I assemble them to create compositions with balanced shapes to give them a second life on various themes. I give them a name according to what they inspire me and each composition is unique. The assembly is done according to the inspiration with technical and aesthetic criteria.
A bit like a musical score which is composed of a succession of notes to give a harmonious melody and the inspiration of the title."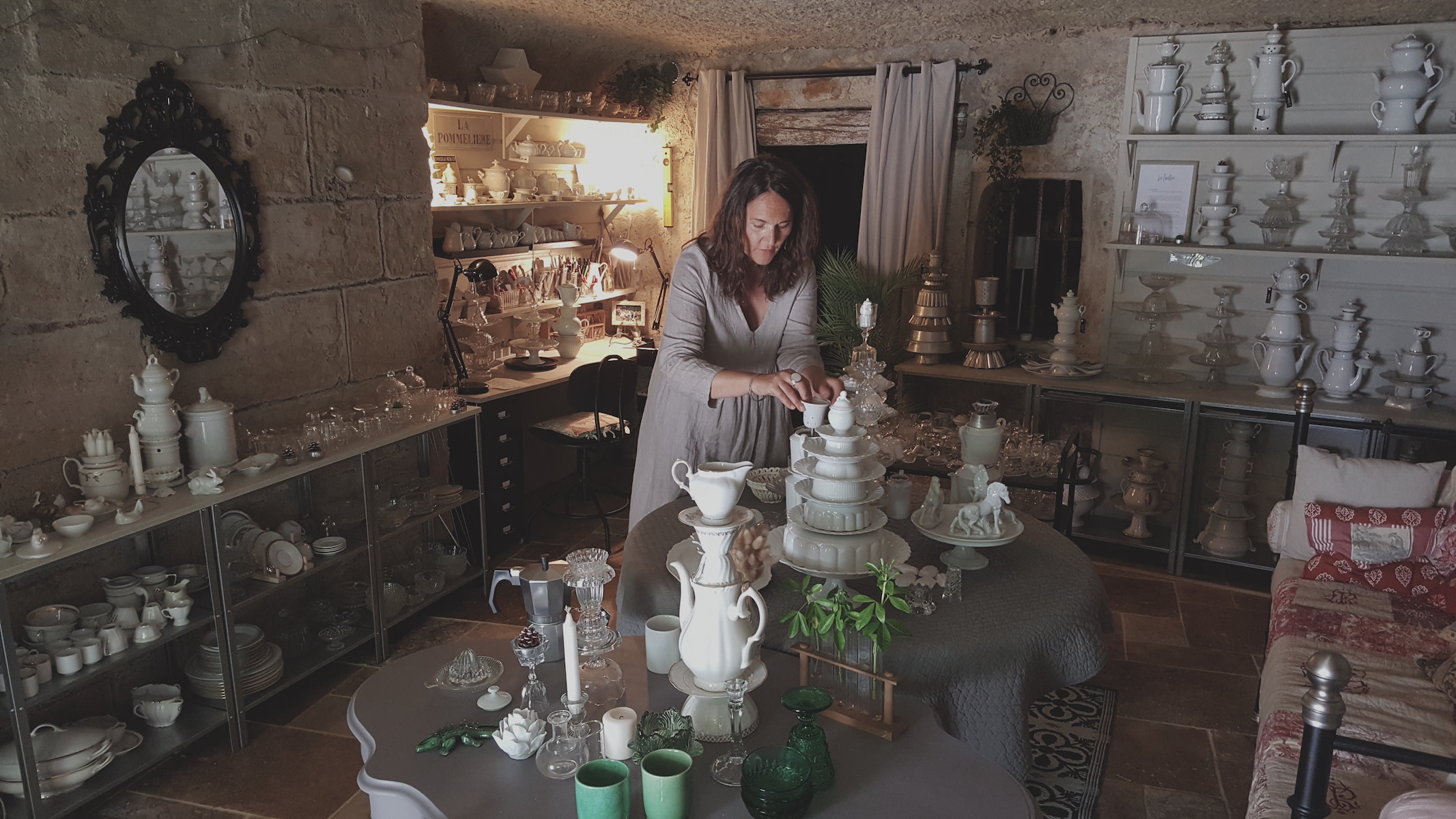 2021
Eden or the recovered garden, Galerie Nathalie Béreau, Paris
My beautiful fir trees, Galerie Nathalie Béreau c/° Chai Pierre et Bertrand Couly, Chinon
Autumn Flower Festival, Château du Rivau, Lémeré
2020
Un voyage parisien/A parisian journey, Galerie Nathalie Béreau, Paris
A table!/Let's eat!, Parvis des métiers, Bourges
2019
Art show, Tours
Christmas at the Castle, Azay-le-Rideau
C'est le sapin!, Nathalie Béreau Gallery, c/° Chai Pierre et Bertrand Couly, Chinon