Vanités à découvrir / Vanities to discover
 Depending on the different aspects from which the Vanities are approached, the contemplative earthly life is touched upon as well as the pleasure of the senses, wealth and power. The flight of time through the destruction of matter is also present.
The Vanities, widely represented by artists, continue to inspire them.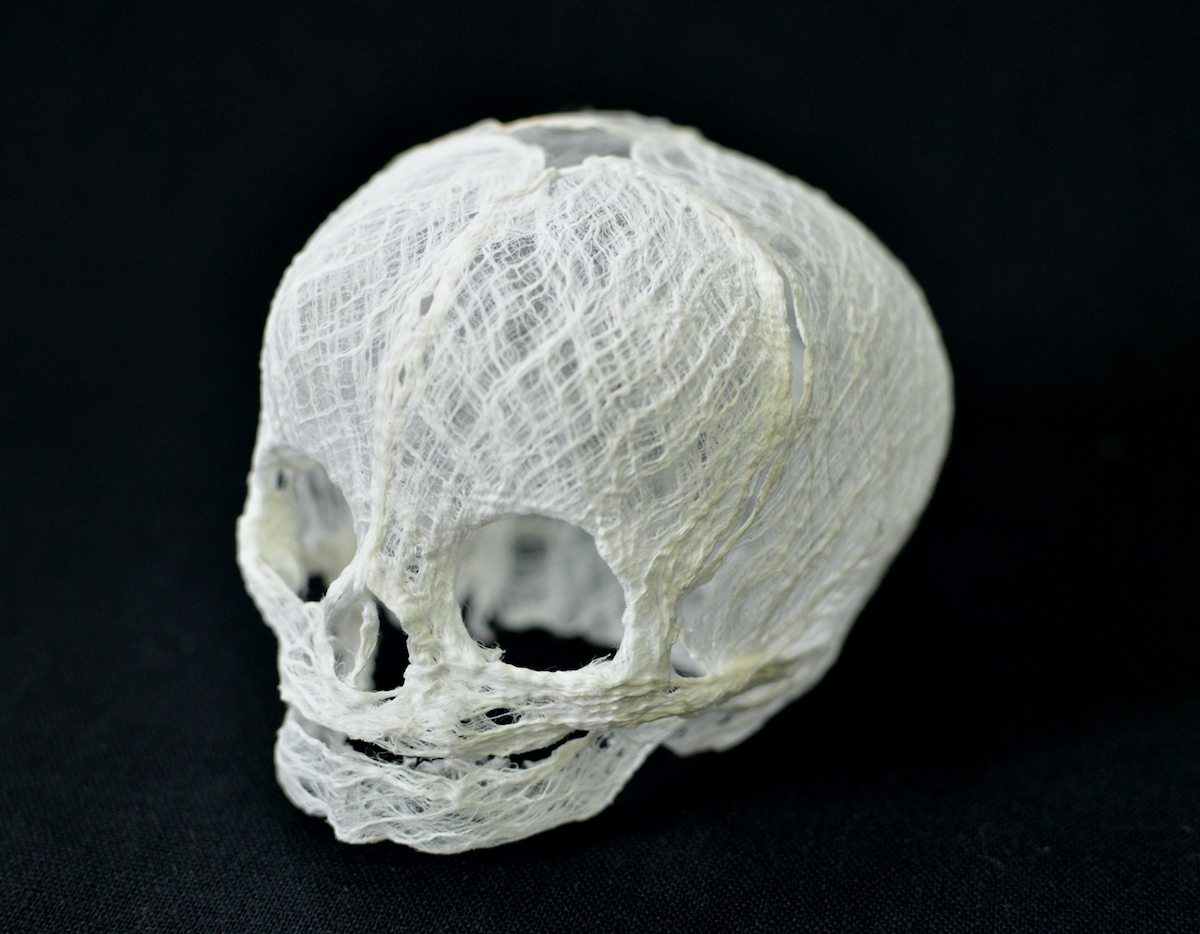 Miki Nakamura, Vanité / Vanity, sculpture, kozo or paper mulberry fibre, 13x13x13 cm, 2012, N°2/7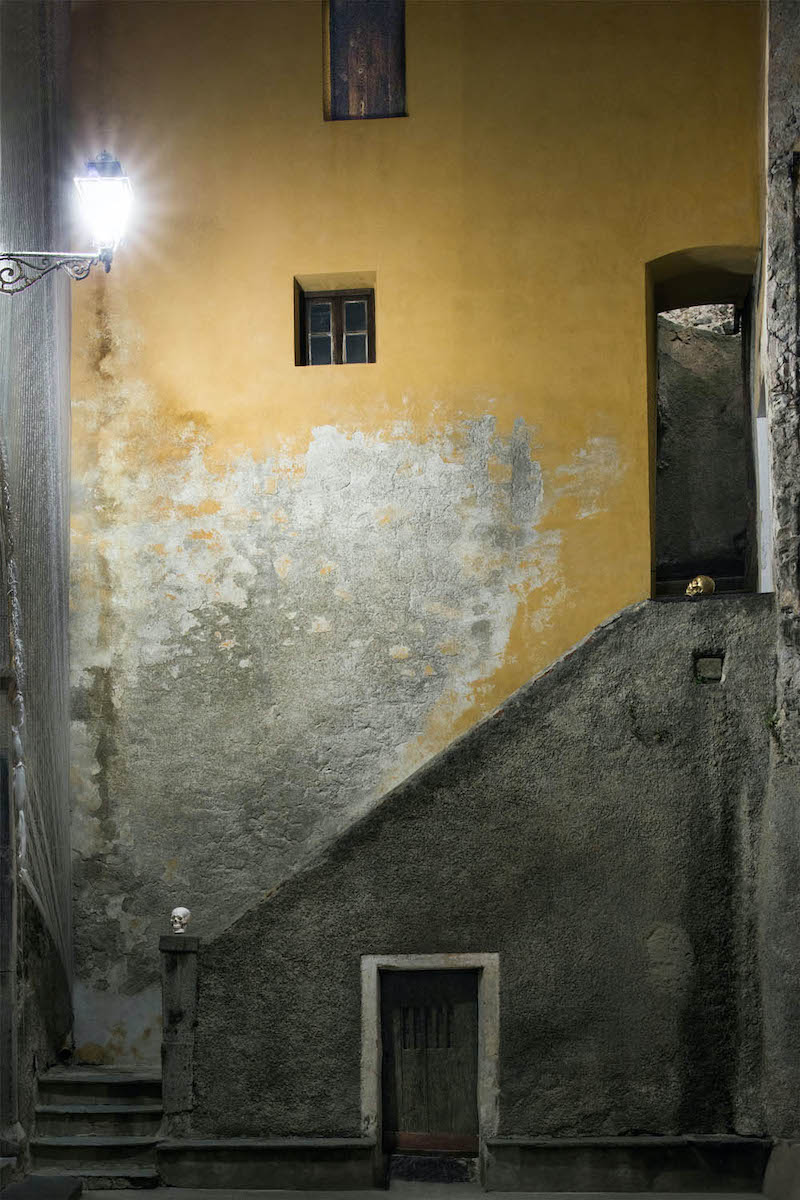 Jean-Christophe Ballot, Vanités/ Vanities, The Merchant of Venice, photographic print, 9 copies in all formats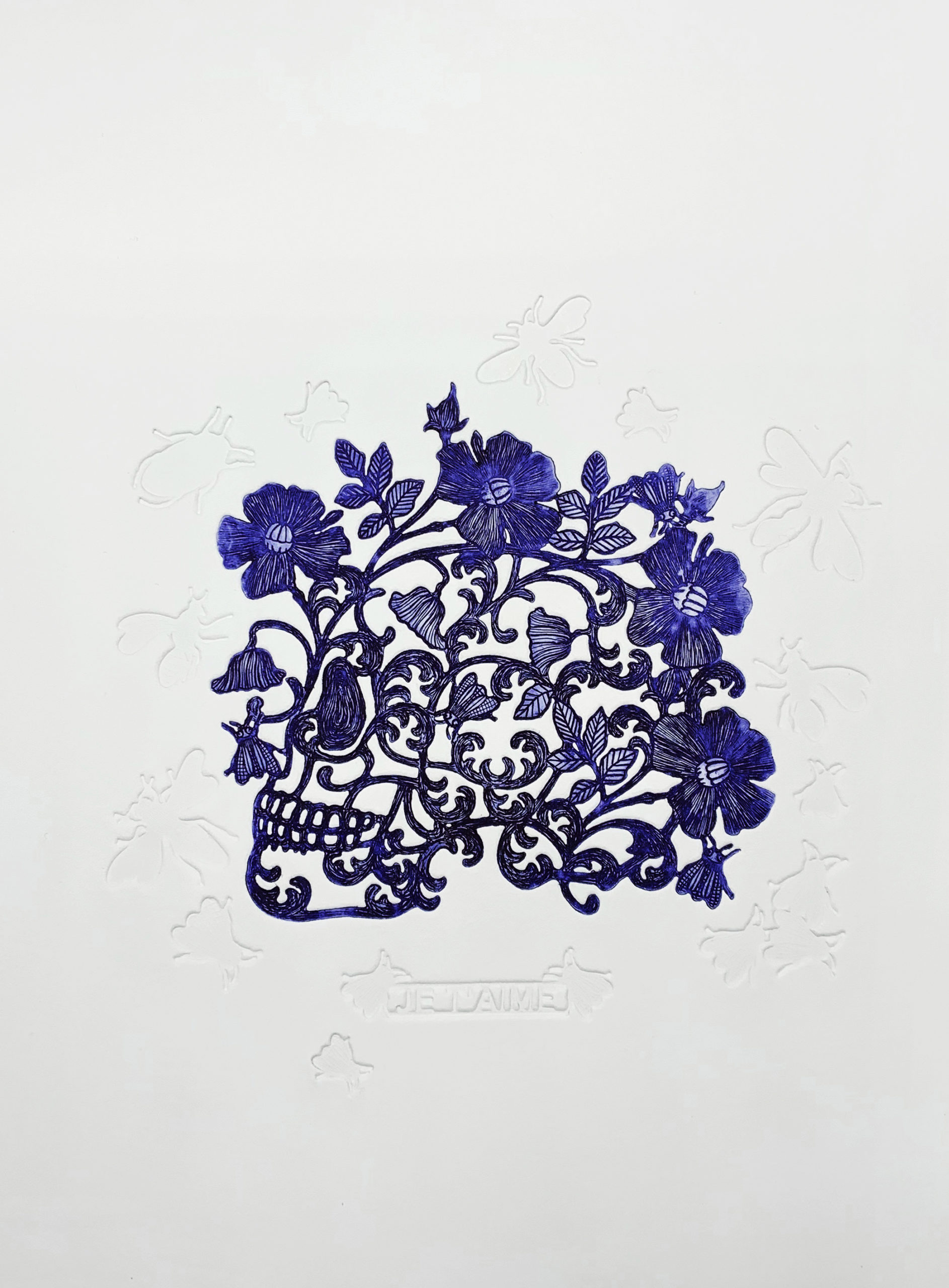 Michaël Cailloux, Vanité fleurie « Je t'aime »/Flowered vanity "I love you", carbon blue, n°2/6, colour printed etching and embossing on Arches paper, 28×39 cm
Miki Nakamura, a Japanese artist living in France, works with the fibre of the paper mulberry tree or Kozo, delicately unfolding the fullness and emptiness creating a membrane that is a priori fragile, full of grace. Her objects become a kind of paradigm which are inscribed in the Vanities like so many facets of an artistic look tinged with a muted, melancholic poetry and which raises the question of the fragility of life, of our beliefs. The artist essentially develops a floral and mineral vocabulary, to which other elements are added: ephemeral flowers, cascading leaves, like the skull. All of this is done in a white colour – that of the material – giving the works a particular, luminous radiance.
During an artist's residency in the summer of 2017 at the Saorges monastery (managed by the Centre des Monuments Nationaux), Jean-Christophe Ballot developed a work on the theme of the Vanities.
His modus operandi navigates between still life and installation, as the photographer stages two skulls (in resin), one white and the other golden, inventing a story for himself, that of a false discovery. He then asserts the gesture, the intervention of the artist in the space and therefore in the image, for example by assuming the presence of photographic accessories or by a baroque theatricality.
Through this creative process, the question of Vanity itself is joined by the question of chance.
Each photograph thus created offers us a poetic, philosophical or spiritual reflection inviting us to meditate.
Michaël Cailloux explores Vanity in its carnal and sensual aspects. This skull, which could be a priori morbid, is on the contrary the beginning of a rebirth, of a new bloom. Drowned in flowers and insects, it becomes a source of life. The artist creates fine and airy compositions where small twirling flies disrupt the order. Let us remember that the fly, also his signature, is a reference to 15th to 17th century painting where it was present, often symbolising the fragility of life, the perishable aspect of things, the ephemeral.