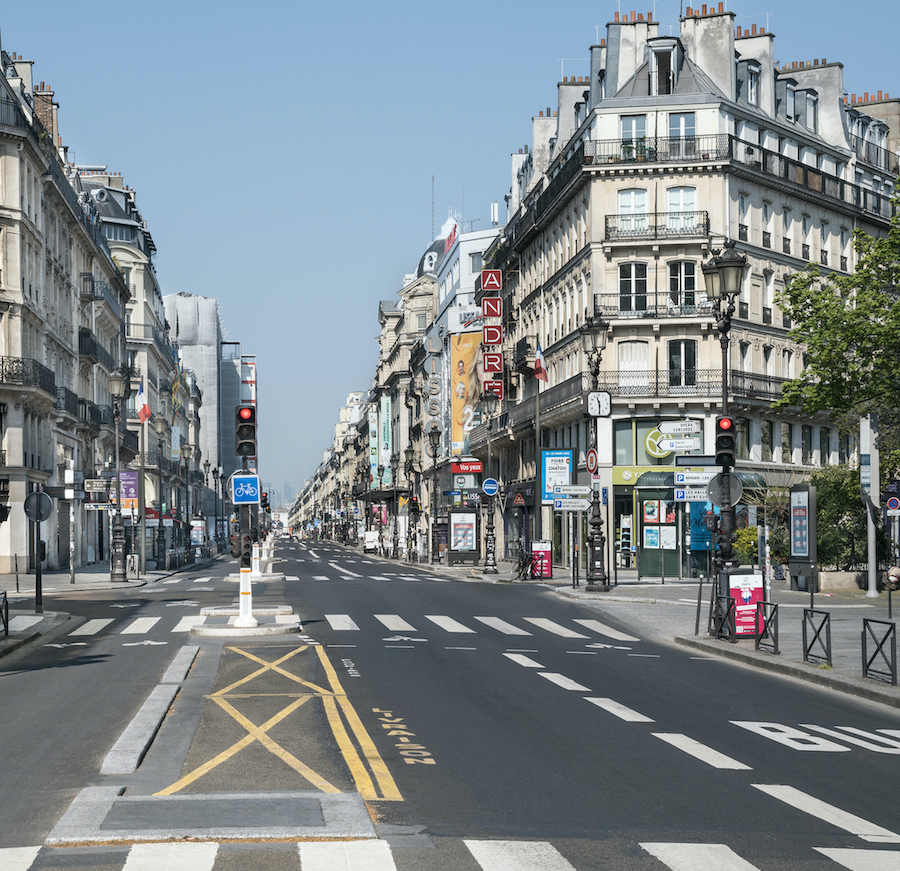 Rue de Rivoli.
GPS:48°51'31" N 2°20'53" E
Info: Rue de Rivoli at the corner with Rue des Halles.
The Nathalie Béreau Gallery presents the new series of photographs by Jean-Christophe Ballot taken in April 2020 in the deserted streets of Paris: Paris, the other face of lockdown.
Beyond the exceptional testimony it is a rare vision of the beauty of the City of Light.
Life stopped for a moment to start again, quickly, soon.
The complete description of the photographer's approach, the stakes of such an urban journey which could be similar to a solitary journey are available on request from the gallery contact
Excerpts
HISTORY / On March 17, 2020 at 12:00 pm the lockdown, announced the day before by the President of the Republic, was implemented throughout France. It is a sanitary measure against the epidemic of Covid-19. It will last until May 11, 2020. Jean-Christophe Ballot places himself as chronicler of a unique, historic moment of Paris suspended and silent…
CHALLENGES / In this period related to the pandemic Coronavirus Jean-Christophe Ballot has assumed the health hazards to achieve this work for our collective memory. The Parisians were obliged to stay at home. They are confined in the private sphere. The corollary is that the public sphere is emptied.
This play of fullness and emptiness was particularly noticeable where the flow of people was normally the greatest: in the cities.
Jean-Christophe Ballot's urban landscapes tell the other side of the lockdown.
SPACE / To photograph the space of the city is to work on the void. But here the project is exacerbated: it's a question of taking account of the emptiness of the emptiness! The space is the street, the square. The purpose is now to include in the image the sidewalk empty of pedestrians, the asphalt empty of vehicles. The frame is then a device that marks both the recognition of a known and identifiable place (most often emblematic of Paris) and its unusual vision, strange because exsanguinated from its inhabitants. The flesh is drained of its blood.
LIGHT / The artist has chosen the radicality of light.
CONTEMPLATIVE LOOK / Jean-Christophe Ballot has been claiming a contemplative look for many years. He applies a Buddhist principle of – here and now – the intensity of a non-moment.
RESTITUTION / The final edition is composed of 72 images.
Discover a selection of the works for sale on the Jean-Christophe Ballot onlinegallery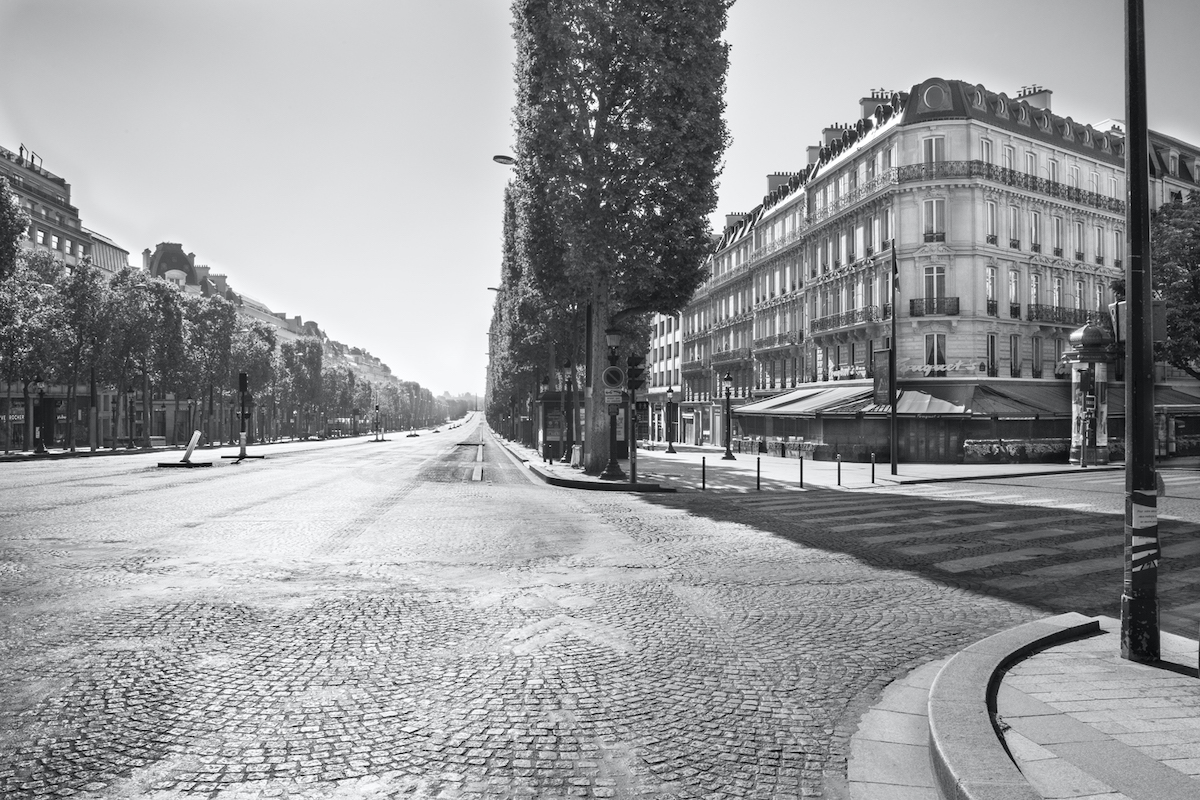 Avenue des Champs Elysées.

GPS:48°52'19" N 2°18'2″ E
Info: Avenue des champs Elysées at the corner with avenue George V and the restaurant Le Fouquet's.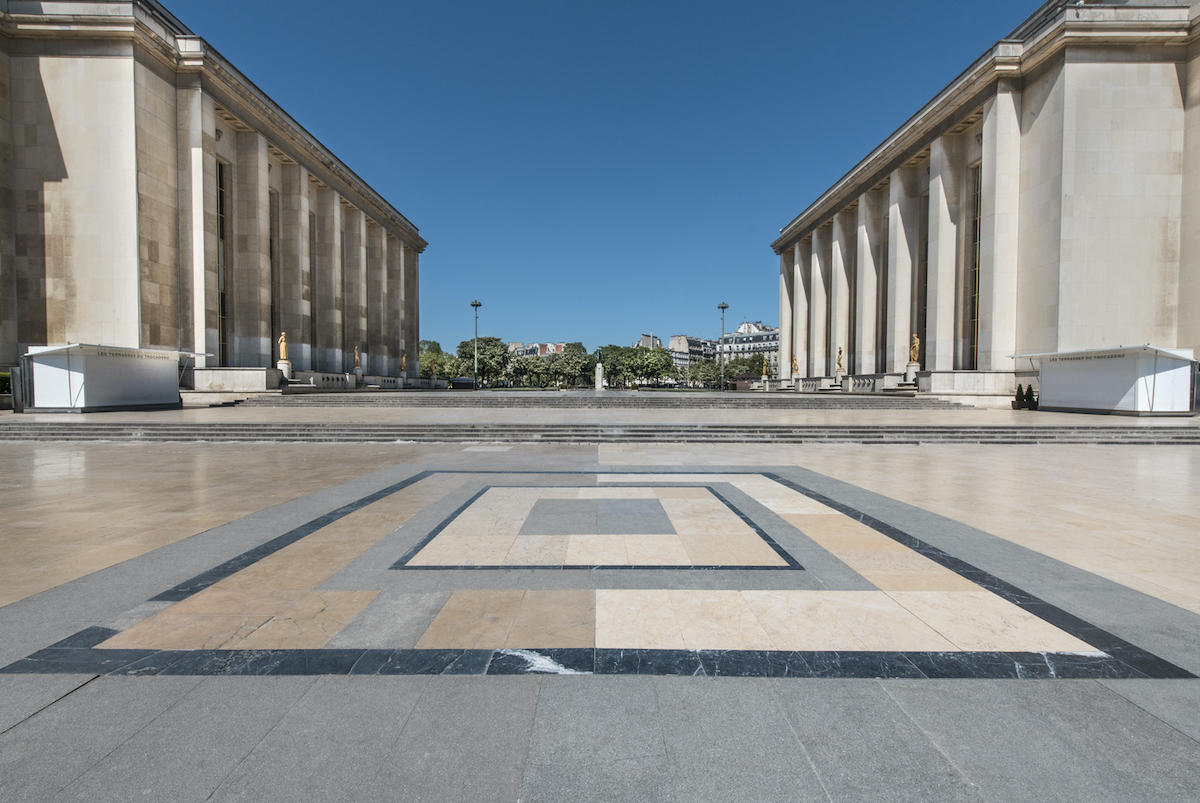 Trocadéro.
GPS:48°51'43" N 2°17'19" E
Info: The two pavilions of the Chaillot Palace delimit the esplanade of Human Rights, in front of the Trocadero square.