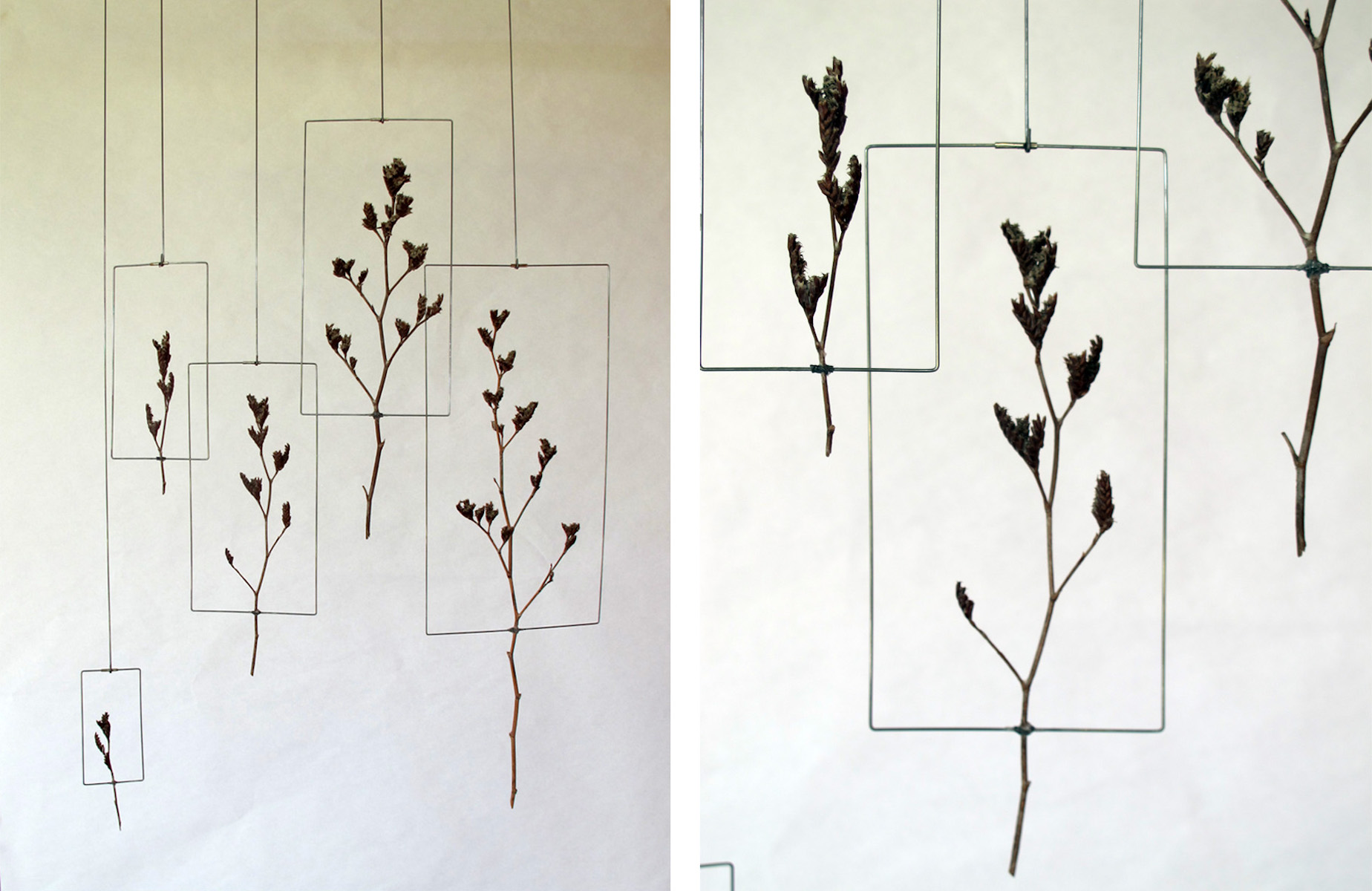 Flowers in major mode, 2018
Device suspended from a transparent Plexiglas base
Dried plants and piano wire
40 (w) x 12 (d) x 62 cm (h)
1970, Indre, France
Career path
Born in 1970, I grew up in the Indre region of France, in a rural environment. I studied geology and planning in Tours and then in Montpellier. I worked from 1993 to 1999 in the development sector in Charente-Maritime.
In 1999, I change course, move to Paris and follow an artistic training (continuous training with the GRETA of applied arts, E.S.A.A. Duperré and Boulle, Licence arts plastiques, Ateliers de la Ville de Paris in foundry and direct size).
My personal work of sculpture, started in 2002 in foundry and direct carving, evolves towards the creation of installations and assembly in 2008. With this natural evolution, my sensitivity to environmental aspects and my training in science and geography merge into the artistic gesture.
Since 2005, I live in La Rochelle. I work mainly in the framework of residencies.
Artistic approach
My artistic practice is influenced by an initial training in geology and planning. It is marked by a sensitivity to materials, a relationship to space, and a look at our daily environment. How do we inhabit a place, and how can the artistic gesture itself inhabit a space?
I create mainly installations in situ, most often ephemeral, and in parallel of those, assemblages. The whole is characterized by purified, graphic, often aerial forms, combining geometrical and organic forms, which preserve of my practice of the direct size the rhythm and the repetition.
The materials used for their plastic and graphic qualities, often recovered and diverted, are simple.
My work, nomadic, is inseparable from a process of discovery, meeting and results from an interaction between the environment where I intervene and a questioning on the concepts of fragility, link, transition, impermanence and resilience.
My first research focused on the notion of territory, then evolved towards a more intimate reflection in resonance with human environments. If nature and vegetation have always been present, environmental issues (climate change, biodiversity) are becoming preeminent, especially the issues of disappearance, collapse or resilience. By extension, current reflections on the notion of inhabiting and on the concept of nature are of particular interest to me.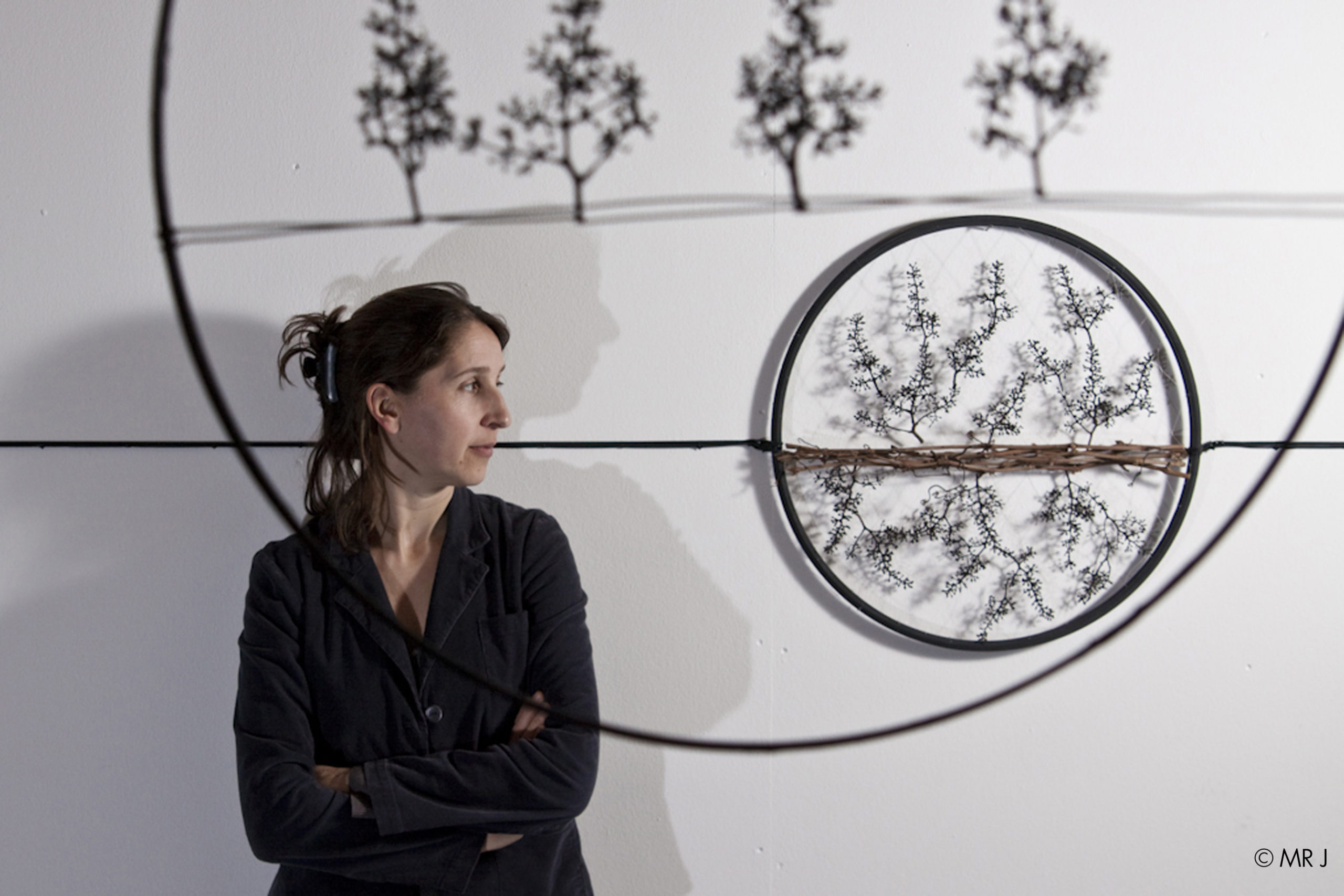 Creation – residencies and personal exhibitions
2022
Passages – Lagord, Parc de l'Eglise, plant installation, created with Laurent Semelier, as part of CréActives and Transhumances littorales
2021
Installation L'Espace clos, MSH, Tours
2020
Ailleurs, Installations – Carole Marchais and Benoit Hapiot, Syndicat mixte de Brouage, Département de la Charente-Maritime, Centre Intermondes, La Rochelle
Les mélancolies végétales, Carte blanche graphique, creative residence – La Bouvardière, Saint Herblain
2019
Plant Poetics – Exhibition at the Bletterie Gallery, La Rochelle
The clouds that pass, there, there … – Chapel of the White Ladies, City of La Rochelle – Installation in situ with Frederique Bouet
2018
Remanence – Sculpture/photography exhibition with Frédérique Bouet – Nathalie Béreau Gallery, Chai Bertrand Couly, Chinon
2017-18
Creative residency at the University of Tours, UMR CITERES (from Sept 2017 to April 2018), with La DRAC Centre Val de Loire and the Conseil Départemental d'Indre et Loire :
Chemin faisant … – installations, MSH Val de Loire, hall and footbridge
De l'eau dans son vin – creation of an installation with the teacher-researcher Isabelle La Jeunesse and the students of Master II Environment, territories and landscapes. Presented during the international conference Climate Change & WATER Tours, then in the Thélème room of the university, then at the Château de Gizeux.
2017
Do not sink – Residency at Lawangwangi Art Center, Bandung, Indonesia (Feb-May) – with the Centre Intermondes, the City of La Rochelle and the French Institute
2016
[Des]enchantements – Creation residency at the Lycée agricole de Chambray-les-Tours (October-December) – with the DRAAF, the DRAC and the Région Centre Val de Loire
Falling down 3 times, getting up again, staying upright, and finding a lightness … – Residency of creation and mediation at the psychiatric hospital Marius Lacroix, La Rochelle (from Sept 2015 to June 2016) – with the DRAC, the ARS Poitou-Charentes, the City of La Rochelle
2015
Verticality, installations in collaboration with the artist Chen Saï Hua Kuan as part of the Singapore Festival in France – Centre Intermondes, City of La Rochelle (June to October)
2014
Légèretés d'automne, installations, Le Pilori, Niort
2012
Exhibition, Chai Pierre et Bertrand Couly, Gallery Nathalie Béreau – Chinon
2011
The line and the stroke… – Château de Monbazillac, La Nouvelle Galerie (Bergerac) – as part of L'art est ouvert – outdoor and indoor installations
Away from the world… lace and water lines, creation residence – Cooperage and Clos de la Halle aux Vivres, Syndicat Mixte de Brouage
2010
Les chambres sensorielles – Regards croisés, " Opération containers – Escales artistiques à domicile ", artistic residence, installations – Agglomération Royan Atlantique, Talmont sur Gironde
La croisée des chemins, installation – La Caserne, Centre d'art contemporain – Joué lès Tours, as part of the Bruissements d'Elles festival
2009
Lignes de Vigne, installation – Contemporary Gallery of the Town Hall of Chinon
2008
Exhibition at the Domaine Dozon, Chinon
2006
Exhibition Atelier Bletterie, La Rochelle
2004
Exhibition Tonnellerie, Brouage
Commissions, creations for individuals or companies – Acquisitions collections
2018 Ligne Fleur – Installation in situ for the House of Christian Dior – Apartment, place Vendôme, Paris – with the Nathalie Béreau Gallery
2016 Collection Institut Culturel Bernard Magrez – "the man who planted trees"
2014 Le songe de l'architecte – Bertrand Penneron architects' office, Tours – creation of a work inspired by B. P.'s career – with Galerie Nathalie Béreau ( Chinon – Paris)
2012 Creation of works for an apartment (inspired by the Ile de la Cité), private collection – Place Dauphine, Paris
2011 Creation in situ for the offices of the consulting firm Retail Management Services, Paris
Mediation and artistic and cultural education residencies (recent)
2020 Residence of artistic and cultural education City of Jonzac, Centre Intermondes, with DRAC Nouvelle Aquitaine – Lycée agricole Le Renaudin and Médiathèque de Haute Saintonge
2019 – Residency of artistic and cultural education – Pays Marennes Oléron (Sept-Dec) – "Living in 2050, living and environment", in parallel with the elaboration of the SCOT (territorial coherence plan)
– Living in 2050, living and environment", in parallel with the elaboration of the SCOT (territorial coherence scheme) – Agricultural high school, Primary schools, Leisure centers
– Artistic and cultural education course – Fénelon High School, 2nd option of awareness to environmental issues, La Rochelle – Le dessous des glaces
General course, Training
2004-2022 Personal and group exhibitions – Artistic creation and mediation residencies
2005-2011 Teacher in plastic and applied arts, workshop leader, La Rochelle
2002-2005 Bachelor of Fine Arts – University of Paris 1 Panthéon La Sorbonne
2001-2003 Intermittent painter-decorator, Comédie Française's scenery workshop
2000-2005 Ateliers des beaux-arts de la Ville de Paris: foundry, direct cutting, modeling, drawing
2000-2001 Continuing education at the École Supérieure des Arts Appliqués Duperré, Paris
1993-1999 Expérience professionnelle en aménagement touristique, Charente-Maritime
1988-1993 University studies in Tours, then in Montpellier – Master's degree in fundamental and applied geology, D.E.S.S. Coastal and maritime activities and developments
artwork
Overview artworks
Installation Niort / Installation Brouage / Installation Monbazillac / Exhibition Lignes de vigne, Chinon / Collection Bernard Magrez, Bordeaux / Exhibition La croisée des Chemins, Joué-les-Tours / Commissioned for a private apartment Ile de la Cité, Paris / Commissioned for a private company RMS, Paris / Video installation with Frédérique Bouet "The clouds that pass over there, over there, … ", 2019, Chapelle des Dames blanches, La Rochelle