Michaël Cailloux at The Cercle Suédois, Paris
The Cercle Suédois
The contemporary lounge
Paris | FRANCE
Carte blanche to Michaël Cailloux
Opening by invitation on Tuesday 11 October 2022 at 5pm
Drawings, engravings, wall jewellery, surprises …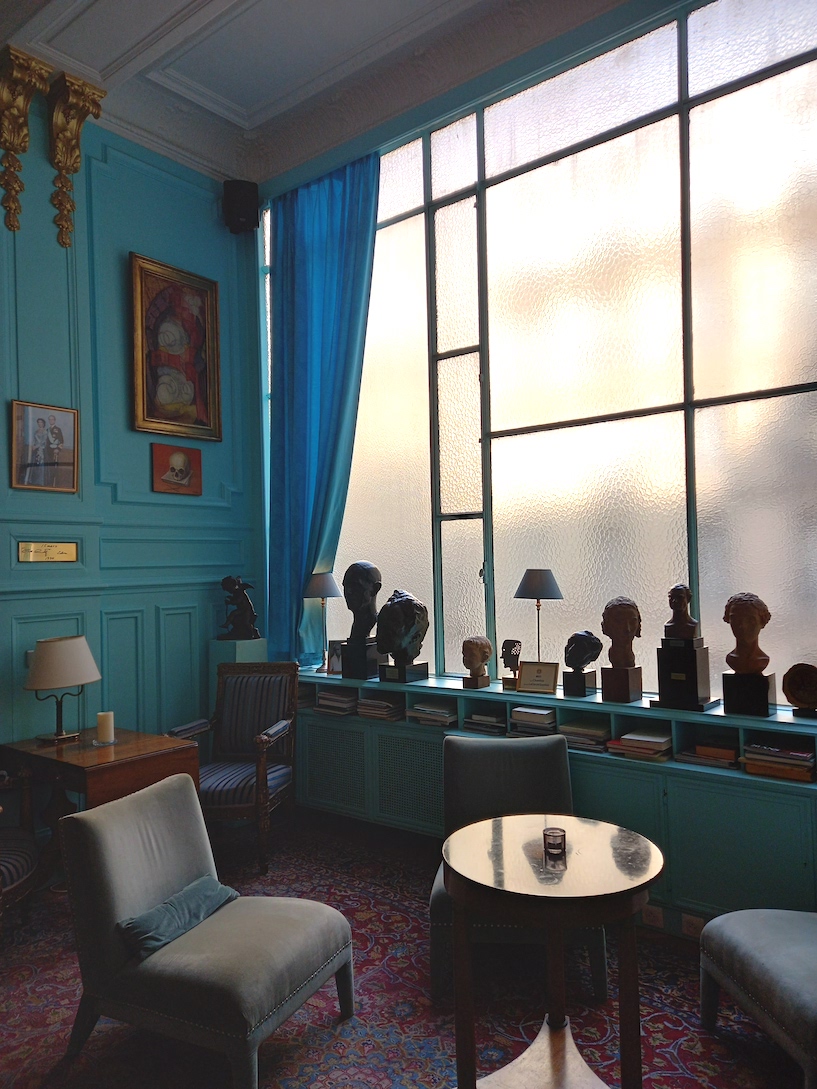 The Cercle Suédois bar, Paris
Carte blanche to Michaël Cailloux
On an original invitation from the AAS, the Gallery is organising an exhibition at the Cercle Suédois, rue de Rivoli, Paris 1er, for the second time in 2022. Discovering the place nestled in the heart of a Haussmannian flat with a dense history (first Swedish Circle abroad, creation of the Nobel Prize, AAS since 1957), the gallery continues its nomadic work in original, singular places, open to art and welcoming contemporary art with always great enthusiasm.
This carte blanche to Michaël Cailloux will be an opportunity for the gallery to celebrate 10 years of exhibitions with the artist! But also to present a preview of his monograph which will be released at the end of October. For the event, Michaël Cailloux will propose original creations inspired by Nature and Sweden.
Exhibition organised in partnership with the Swedish Art Association in Paris.
The Swedish Circle in brief
Founded in 1891, the "Svenska Klubben i Paris" is the oldest Swedish Circle abroad.
Just a stone's throw from the Place de la Concorde in the heart of Paris, the Cercle Suédois welcomes its members and their guests in its salons, bar and restaurant with a breathtaking view of the Jardin des Tuileries.
In addition to the Rivoli Mercredi Jazz every Wednesday evening, the Cercle Suédois organises for its members and their guests events dedicated to Swedish traditions and culture (themed lunches, traditional parties…), as well as other gatherings connected to the zeitgeist (After Work, Thursday Apéro, brunches…).
In 1957, the Swedish Art Association (AAS) was created and is celebrating its 65th anniversary this year. Close to the artists, the association is very active: organisation of exhibitions, valorisation of the collection of works created since the beginning of the Circle, edition of a work of art each year, help to the exhibited artists, artistic meetings, conferences.
Pratical information
Visiting the exhibition
Opening hours
Monday to Friday
From 3.30 pm to 6 pm
And during events organised by the Cercle Suédois (Wednesday jazz evening)
The PLACE
The Cercle Suédois in Paris
242, rue de Rivoli
75001 Paris
Intercom / Left building 2nd floor