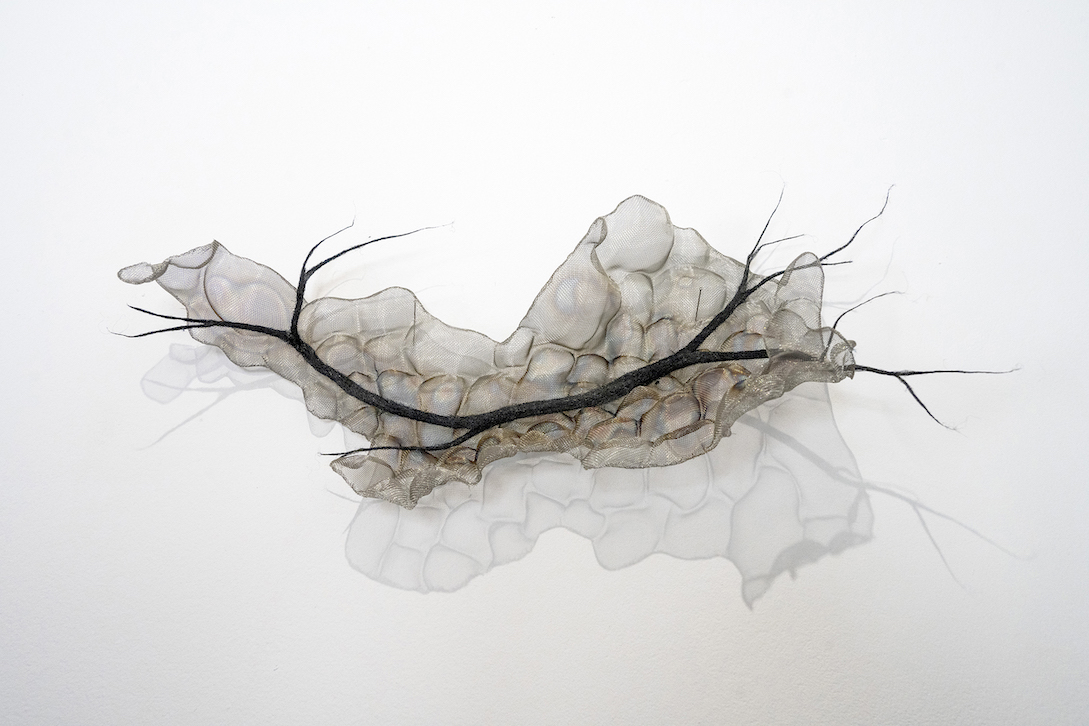 Ghost map 1, 2023
Burnt stainless steel gauze and sculpted steel wool
Sculpture for wall mounting
Length 20/25 cm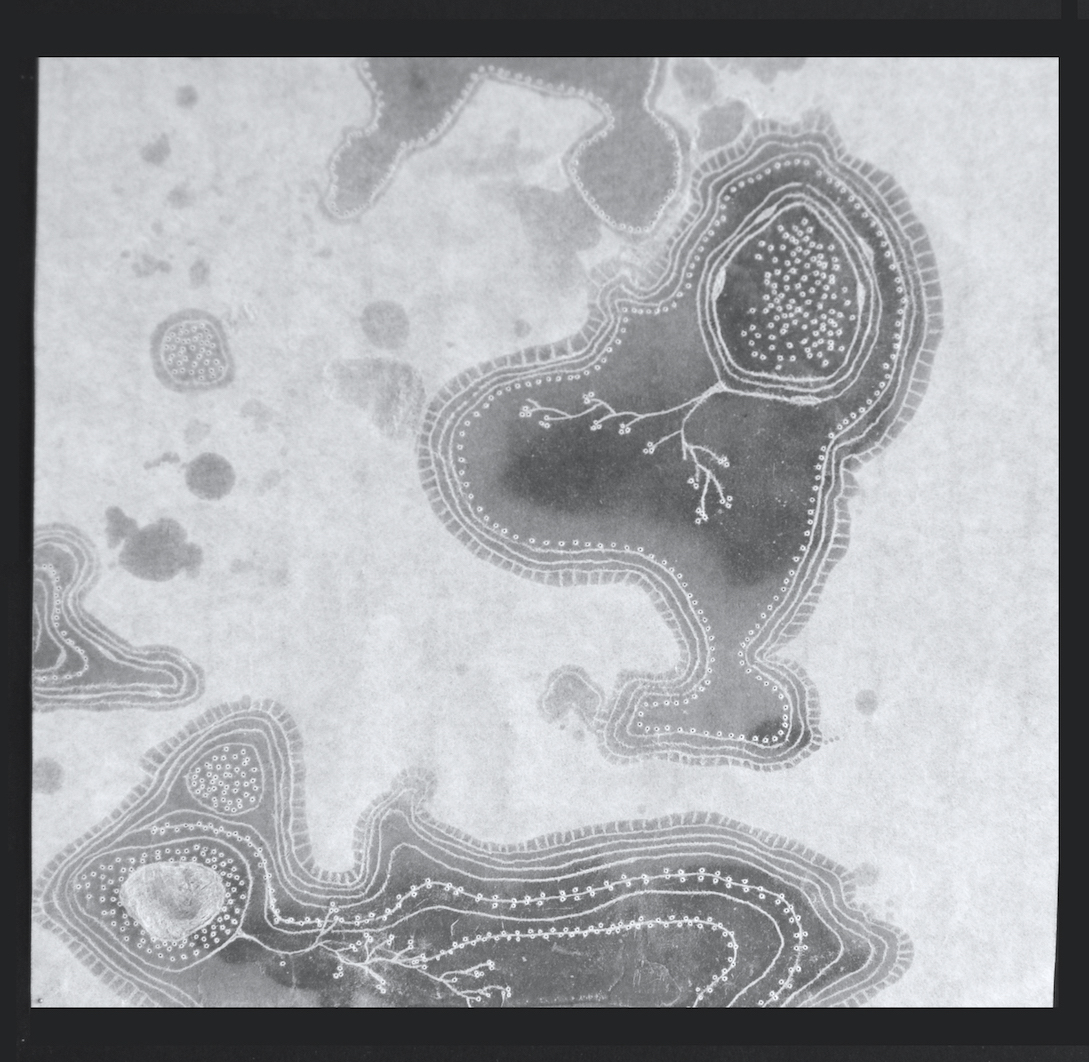 Lost World #1, 2020-2021
Paraffin drawing on engraved Wenzhou paper, on a black background
Unique piece sold framed under plexiglas
25 x 25 cm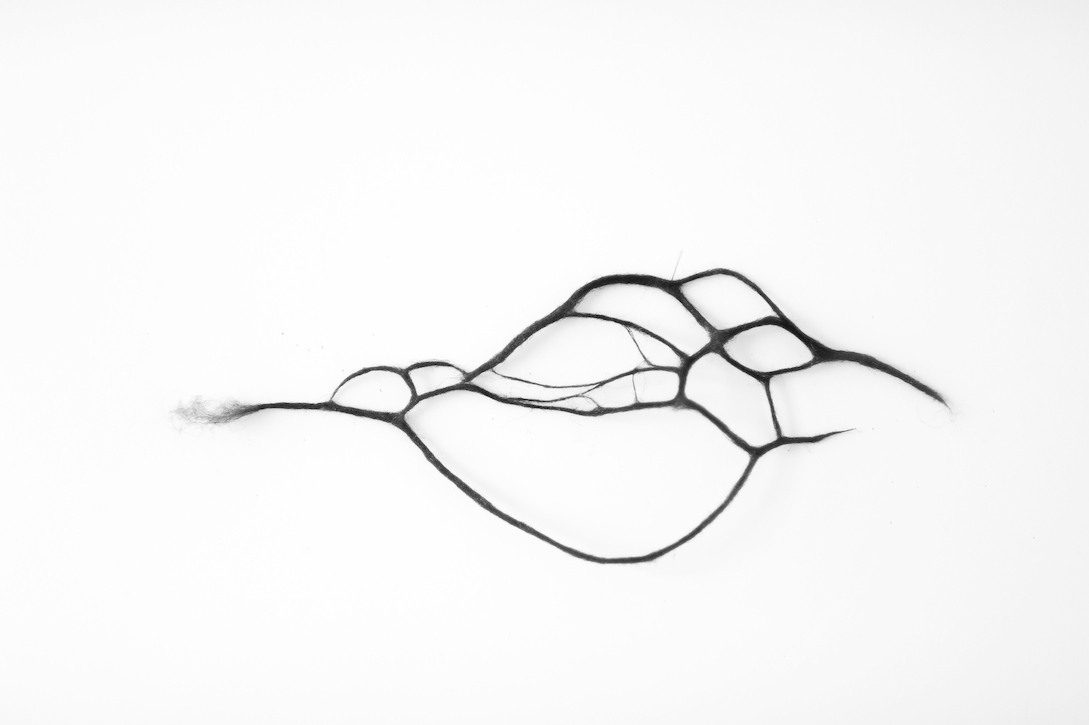 Dust drawing 4, 2023
Inked and sculpted steel wool
Pinned to the wall
23×10 cm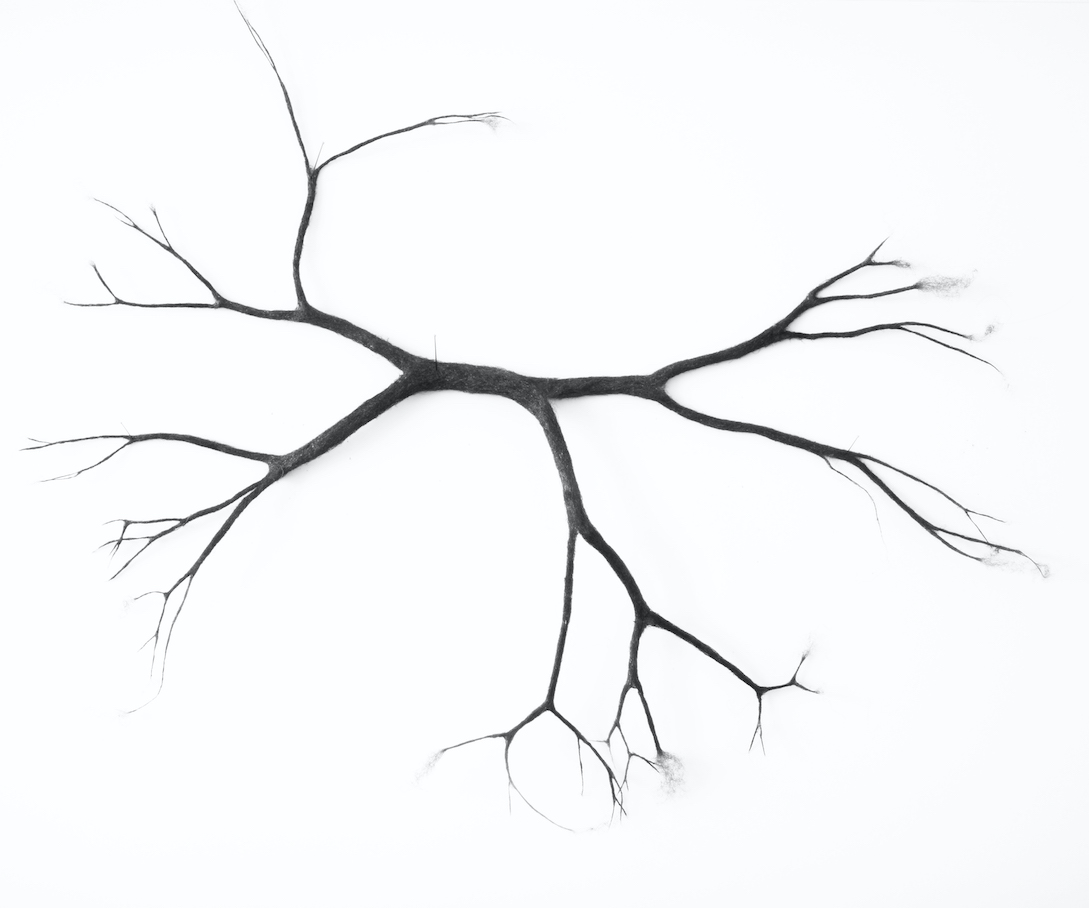 The dust tree, 2023
Steel wool sculpted
Bas-relief framed on pinned feather board under plexiglas
50 x 50 cm
1975, Paris, France
Born in 1975, she graduated from the Duperré School and then worked as a costume designer for several years. At the age of thirty, she decided to develop her work as a visual artist, bringing together her knowledge in the service of a choice: that of expressing herself mainly through sculpture. Since then, she has been experimenting and developing a work of sculpture, drawing, engraving and video, her creations forming a coherent plastic approach.
The artist has an original modus operandi: she accumulates materials, the starting point of her reflections, hidden in drawers, even for years, to then rediscover them, work them into evocative forms that they inspire her.
She can thus associate different materials, relying on drawing, and going back and forth between material and drawing.
Thus, the ink on the steel wool of her Landscapes of Dust is worked like a charcoal or on the contrary like a very dry 4H pencil, according to the effects she wishes to give to her raw material.
The wire (steel wool, hair, piano wire, etc.) has become the main thread of her research and creations, associated with other materials such as earth, plaster or porcelain (Fossil Landscape), ink, copper, her sculptures creating landscapes, as if she had drawn them in space (Dust Landscape).
The impression that emerges is one of infinite lightness, of the poetry of an eternal landscape, the very essence of the landscape that has built painting and drawing since the Renaissance. The sculptures Du bout des doigts evoke organic forms as if they had been observed under a microscope.
Anne Laval's works are not ephemeral creations but built to last, to vibrate with their environment.
Nathalie Béreau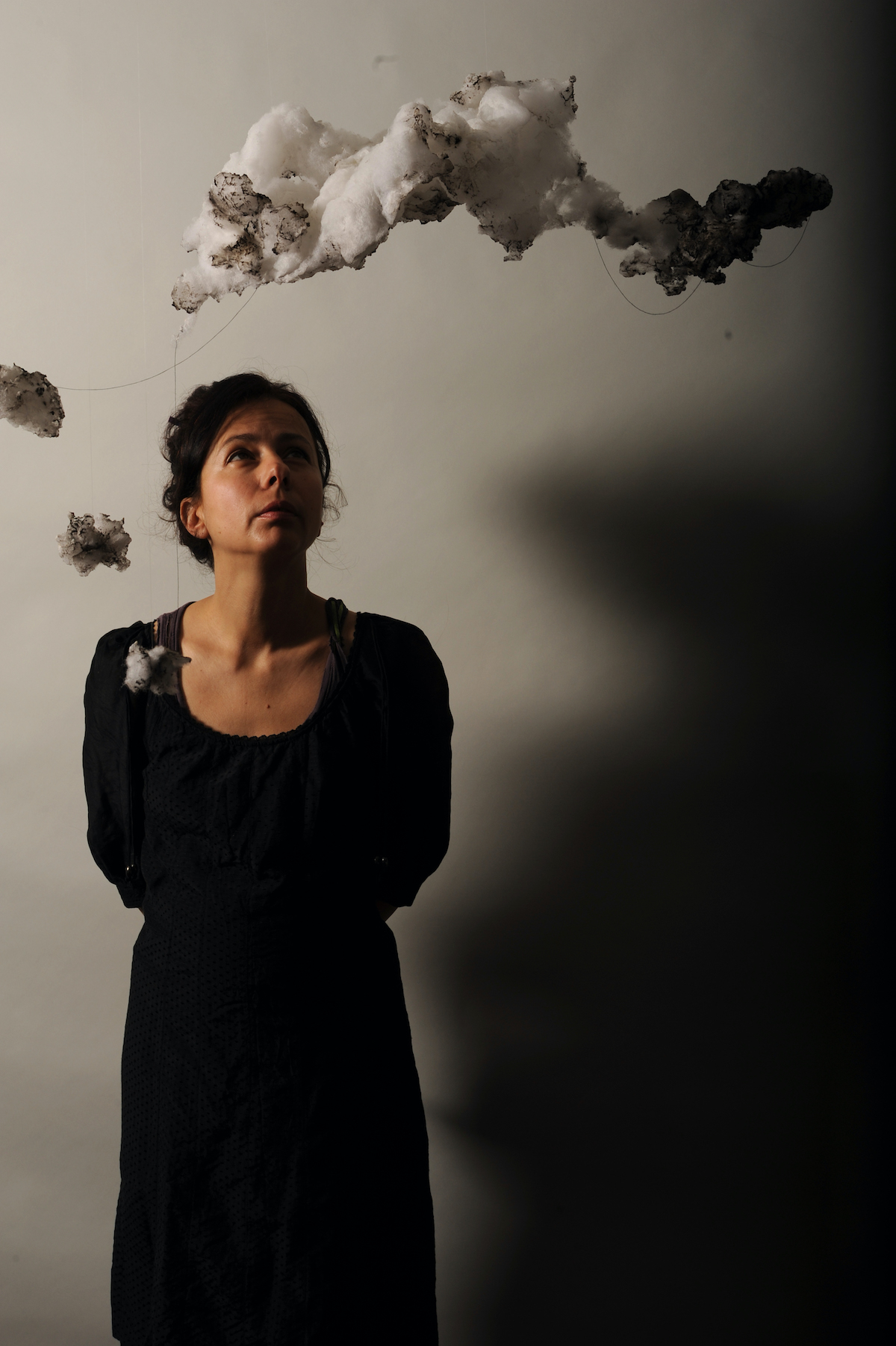 Personal exhibitions, selection since 2007
2023
La Nature du temps qui reste, Mode d'emploi + Nathalie Béreau Gallery, Tours
2017
Morphology of the residue- Arty hours#2- 13 NORVINS-Paris
A la recherche de la trame- dispositif Panorama -Drac Normandie- Logny au Perche / Mortain / Carentan / Cherbourg 2016
Fossil landscape – outdoor installation (porcelain, metal and glass) carte blanche for the Memorial of Montormel
(61 – Departmental Council of Orne)
2015
A l'état frais, Paysage organique/In a fresh state, Organic landscape – Hospital of Alençon (61) – drawings, volumes, installation- (DRAC, Region, ARS Basse-Normandie)
2014
Landscape of ashes – Installation – House of Arts of Evreux (27)
Suspended Landscape – Hubert Lefrançois Space Atelier d'A. in Gravigny (27) – drawings and volumes
2009
Chrysalide and Pluies Blanches-Galerie Pascaline Mulliez – Paris – sculptures
2007
Between earth and sky at the Utopiecerie – sculptures and installation -Paris
Residencies – Scholarship
2018
– Creation residency at the Lycée Edouard de Chambray on La carte et le territoire – 27
– Scenographic residency for the contemporary circus company Le Jardin des Délices
2015 Creative residency with the Réseau Culture Santé at the Biochemistry Laboratory of the Alençon Hospital (61)
2014 Residency with the Iconoclasses at the Galerie Duchamp – Yvetot (76)
2013 Residency at La Source -Guéroulde (27)
2012 Obtained a grant "aid to the material" by the Drac Haute-Normandie
2023
Extérieurs, Etang Lacroix Lamirault, L'Aigle (61), FDAC et Pays de L'Aigle
Territoires – Nathalie Béreau Gallery – Paris
2021
Eden or the garden found ? – Nathalie Béreau Gallery – Paris
2020
Laval/Selmès – Gallery Univer – Paris Nuages – Verrière le Buisson- 91370 Nébuleuse- Gyancourt- 78280
2019
Powder and line – Nathalie Béreau Gallery – Paris
Pas à Pas Domme Contemporaine – Department of the Dordogne – Domme (24)
2018
Weaving / braiding – Fondation Villa Datris – Ile sur la Sorgue
Contextile – Fiber art Fever – Portugal
2016
On a filament – Nathalie Béreau Gallery – 6,Mandel 75016
Panorama – Drac Normandie – Alençon (61)
Textures of contemporary art – Museum of the Hospice Saint-Roch – Issoudun (36) The small collection – Salon DDessin – Atelier Richelieu- Paris
2015
Fiber art fever – L'Aiguille en fête – Parc des expositions – Paris
Carte blanche à Bertrand Hugues – Sabine Puget Gallery – Fox-Amphoux (83) La petite collection- White project Gallery- Paris
2014
Galerie Felli – Paris
Les Iconoclasses XVI -Galerie Duchamp-Yvetot (76)
Génèse – Association Rémanence – Fondation Taylor – Paris 9 ème
Génèse – association Rémanence- Galerie Schawb –Paris 4 ème
2013
Atelier XXI- Association La Source – La Guéroulde (27)
Horizon(s) Galerie Sabine Puget – Fox Amphoux (83)
2012
CRAC de Champigny-sur Marne
2011
Itineraire – Mairie du 9 ème – Paris.
Traversée – Abbaye de Léhon – Bretagne
2010
Mac Paris -Association Mac 2000- Mac Paris
Le jardin blanc et le Labyrinthe – Galerie Sabine Puget – Fox Amphoux (83)
2009
Jardin d'art – Mairie du 7 ème – Paris – installation en extérieur Le Végétal- Galerie The Box – Paris
Diploma
1995-1999
DSAA fashion and environment with honors and a BTS fashion design at the Ecole Superieur d'Arts Apliquées Duperré (ESAA), project "Reflection-Revelation