French artist born in 1983
Graduated from the Ecole Nationale Supérieure des Arts Décoratifs de Paris (Ensad) in 2008
Lives in the Fontainebleau region, his studio is in Montreuil.
Yann Bagot develops a drawing practice based on in situ experiences in contact with nature. During immersive residencies on the coast, in the forest, in the mountains, he seeks to be at one with the place, to live the intensity of the moment.
Put to the test of the terrain, his drawings explore the reactions between Indian ink, water and salt on paper. Drawing as close as possible to the rising tide, at nightfall, in the rain, immersing the drawings in the sea or under a waterfall: the constraints of the open air activate radical choices, natural movements burst into the works and disrupt the drawings. In a symbiotic exchange, ink and paper freeze their random and fleeting imprint.
Series of observational drawings seek to make present the nature lived: rocks, trees, waves. Shaped in seawater, other series connect to the darkness of aquatic borders, compose a face of the distant and inaccessible: glaciers, underground waters, abysses.
Produced on the studio floor, series of large formats attempt to restore the immersive scope and physical intensity of natural elements.
Yann Bagot presents his works in solo and group exhibitions in France, Europe and Asia. In dialogue with the identity of the territories that welcome him in residence, his drawings are assembled in installations in places where human activity has crossed history: a Merovingian crypt, a medieval forge, a World War I shelter (Le souffle du sol series), a fountain or a semaphore.
He also devotes himself to engraving, to the creation of artists' books and regularly collaborates with musicians and contemporary authors. In parallel to his personal creations, he draws within the artists' collective Ensaders with whom he participates in performances, exhibitions and conducts drawing workshops.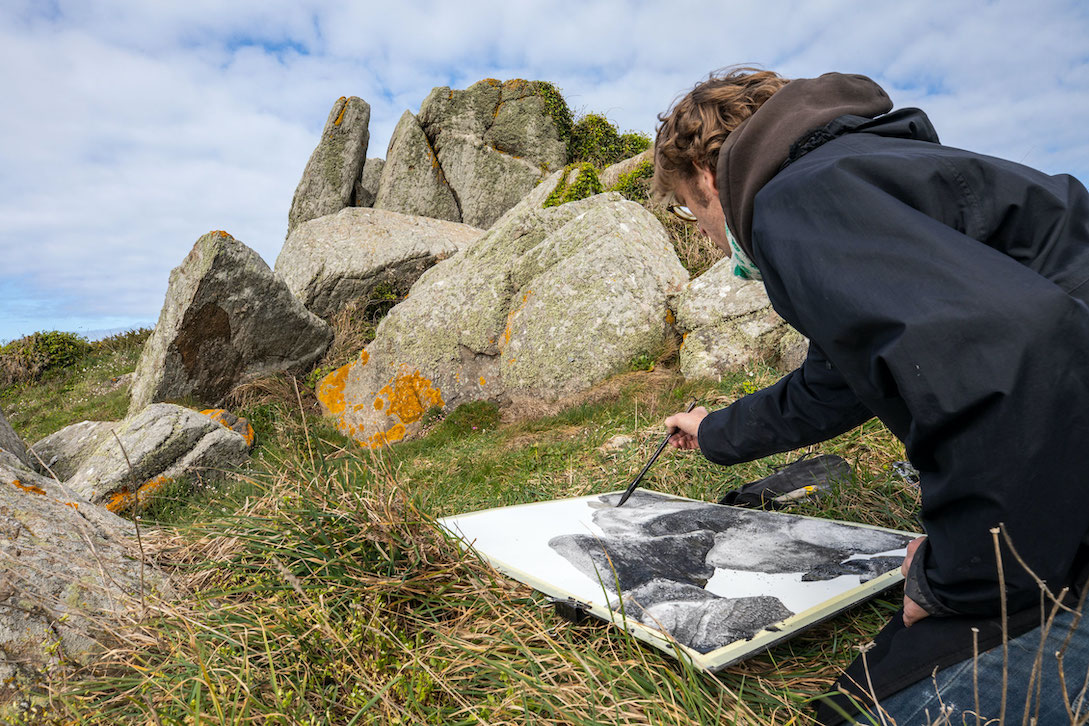 Portrait of Yann Bagot, Chaos, credit Jane Kleis
Solo exhibitions, selected since 2012
2021
Salon DDESSIN PARIS / Coup de cœur d'Eve de Medeiros
2020
Abri-mémoire d'Uffholtz / Le Souffle du sol
2019
Galerie Octave Cowbell, Metz / À l'écoute des sources
Espace Lézard, Colmar / Les Forêts magnétiques
Sémaphore du Grouin, Cancale / Où le regard s'arrête
2015
We Gallery, Shenzhen, China / Le rideau de l'invisble
2012
Less Is More Projects, Paris / Studiolo #4 : Chaos #4
COLLECTIONS
2017 Waldorf Astoria, Beverly Hills
2012 Collection Gilles Balmet
2011 Collection Jean Claude Volot, Abbaye d'Auberive
2010 Philippe Starck – Hotel Co(o)rniche, Pyla
Awards
2021 Sélection prix de dessin David Weill, Académie des Beaux Arts, Paris
2017 Lauréat catégorie dessin Concours Tribew – La Maison des artistes 2017
2016 Finaliste à la candidature de résidence Tara-Agnès b
2012 Sélection prix de dessin David Weill, Académie des Beaux Arts, Paris
Artists residencies
2020 Abri-mémoire d'Uffholtz, Alsace
2019 CACLB, Centre d'Art Contemporain du Luxembourg Belge, Montauban-Buzenol
Sémaphore de la pointe de Grouin, Cancale, Conseil départemental d'Ille-et-Villaine
2018 Fondation François Schneider, en partenariat avec la FEW, Wattwiller
2011 Abbaye d'Auberive
La Source, La Guéroulde
Expositions collectives (sélection)
2021
Eden ou le jardin retrouvé ?, Galerie Nathalie Béreau Paris
Centre Tignous d'art contemporain, Montreuil
La Ruche, Paris / Laniakea #01, Drawing sessions
2020
Artefact Project Space, Paris / SEMAPHORE
Under Construction Gallery, Paris / Sur nos pages, carte blanche à Point Contemporain
100 esc, Paris / Paysâges, commissariat d'exposition : Nathalie de la Grandville
2019
CACLB, Centre d'Art Contemporain du Luxembourg Belge / Y croître
Salon Ddessin 2019, Paris / exposition vente au profit de CETASEA
Académie des Beaux-Arts – Institut de France, Paris / Prix de dessin David Weill
2018
FEW, Wattwiller / commissariat d'exposition : Sylvie de Meurville
Le 6b dessine son salon #2 / commissariat d'exposition : Licia Demuro & Valentine Fried
2017
Paratissima Off, Turin / Beyond the map, Commissariat d'exposition : Soriana Stagnitta
2016
Galerie 24 b, Paris / Mues
Crédit Municipal, Paris / Relève
Kasteel d'Ursel, Belgique / Sweet 18
2015
Maison des arts de Bagneux / L'enfer du décor
Galerie Sator, Paris / Chez Marty, collectionnite aigüe
2014
Fondation Vasarely, Aix-en-Provence / LAPS
ESAD, Grenoble / Exposition de la collection de Gilles Balmet
2012
Académie des Beaux-Arts – Institut de France, Paris / Prix de dessin David Weill
Abbaye d'Auberive / Instinct' Art, Morceaux choisis de la collection de l'Abbaye
2010
Galerie Artegalore, Paris / Leviathan / Dessins, pop-up
Editions / Artist's books / Multiples (selection)
2018 Cheyne Editeur / La Nuit Respire, textes de Jean-Pierre Siméon
Editions Tribew / La Planète Noire, eBook
2017 Editions du Chemin de Fer / Eremia
2015 Agnès b. / Tee Shirt Artist's série
2014 Editions Solo Ma Non Troppo, Mutis Liber
artwork
Overview artworks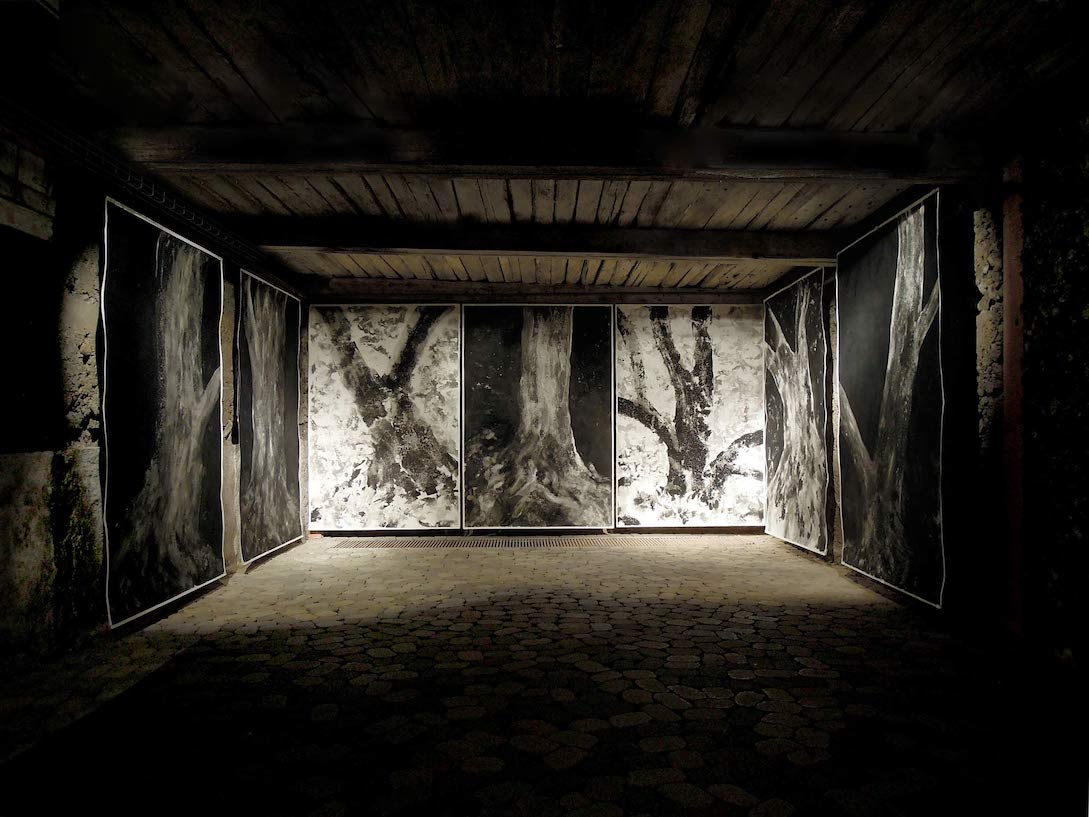 Le souffle du sol, creation in artist residency, personal exhibition, Abri-Mémoire d'Uffholtz, Alsace, 2020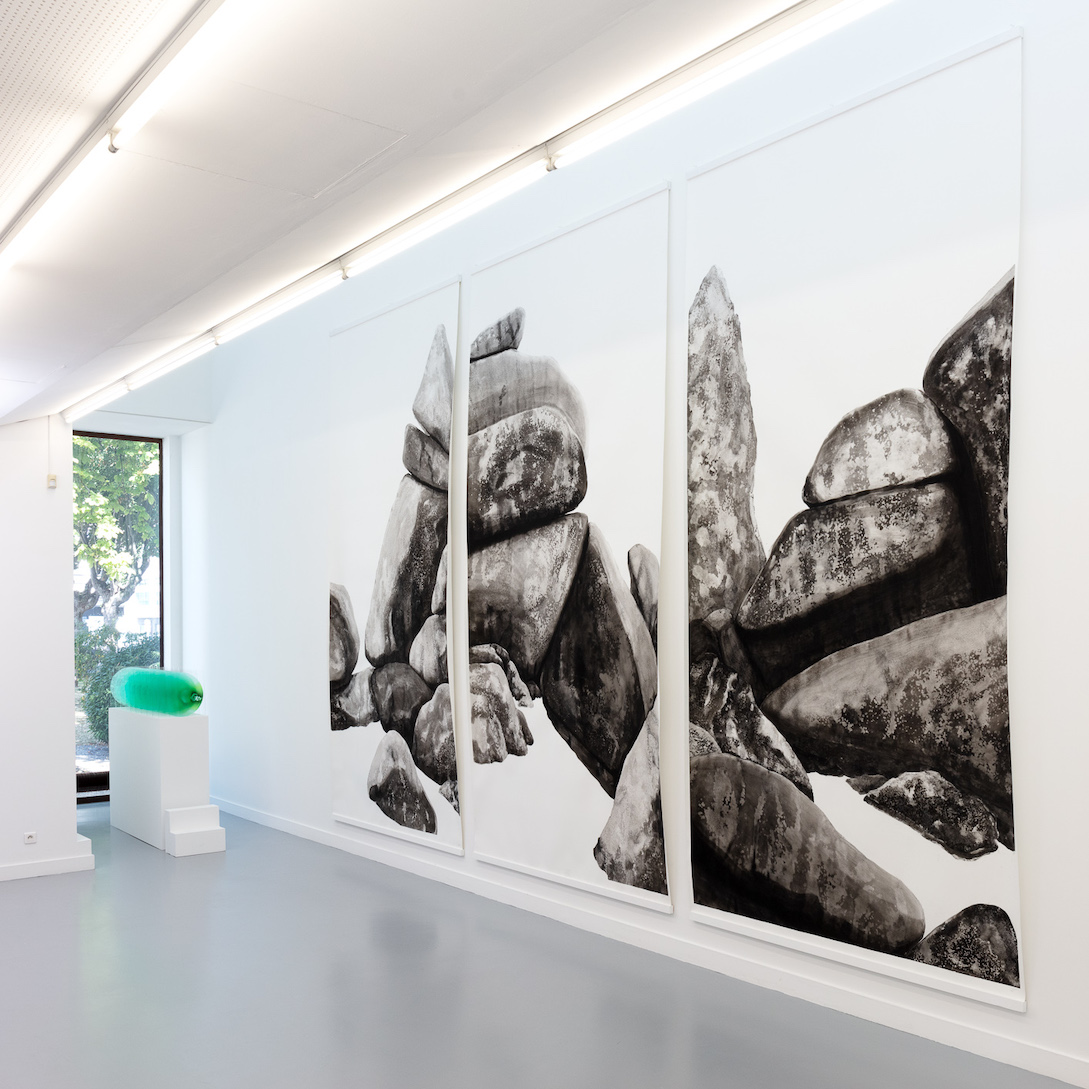 A même la terre, collective exhibition, Centre Tignous d'art contemporain, Montreuil, 2021